VietNamNet Bridge – On January 5 the coast guard and air forces of the Philippines joined the search of 22 missing sailors of the sunken Vinaline Queen. However, the search was unsuccessful.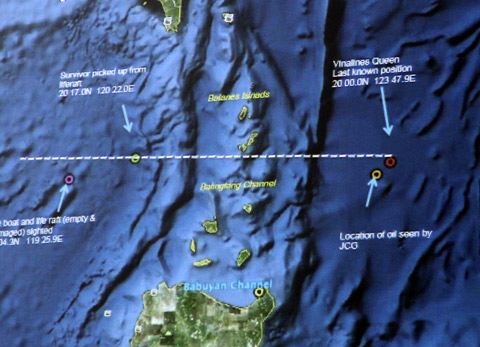 By late afternoon of January 5, 11 days after the shipwreck, no trace of the 22 missing sailors was reported.
According Vinalines Shipping Company's director Nguyen Van Hanh, the Filipino coast guard, naval and air forces joined the search of Vietnamese sailors on January 5. They used helicopters in the search. However, bad weather prevented searching activities.
On the morning of January 5, Minister of Transport Dinh La Thang paid a visit to the Japanese Embassy in Hanoi to ask for the Japanese government's assistance to search Vinalines Queen and 22 sailors.
Minister Resident Kitano Mitsuru said that he would report to the Japanese government and committed that Japan would continue its assistance within its ability. Though the site where Vinalines Queen sank is far from Japan but this country would try to help.
Timeline developments
The Vinalines Queen with 23 sailors transported 54,400 tons of Nickel ore from Indonesia to China, in normal technical conditions.
At 5.48am, December 25, the ship reported to be leaned by 20 degrees to the left in strong wind, without clear reason. The captain changed the direction to a safe area near the Philippines.
One hour later, the ship reported to be leaned by 18 degree to the left and it was running to the shore of Philippines. After that it lost contact with the mainland.
According to the only survival, Dau Ngoc Hung, the ship was sunken several minutes later due to rough waves and leaning.
Information about the lost ship was released on the afternoon of December 26. Taiwan sent rescue workers twice to the site of accident too but they failed to work because of strong wind and waves.
On the afternoon of December 27, the Japanese Coastal Guarding Agency discovered oil streaks near the site where the Vinalines Queen reported the last time.
On the morning of December 28, helicopters of the Japanese Coastal Guarding Agency flew for over three over this area but they only saw oil streaks.
On December 29, search by helicopter stopped. Many experts said that the ship sunk due to a huge amount of nickel ore absorbing the sea water and causing an imbalance for the ship in bad weather.
In the morning of December 30, sailor Dau Ngoc Hung was rescued by a British vessel. 22 other sailors are still missing.
Dau Ngoc Hung returned to Vietnam on January 4.
PV