Da Lat native Nguyen Duy Hai is undergoing surgery on the 90 kilo tumor on his right leg at France-Vietnam Hospital (FV) on January 5, 2012, and American doctor McKay McKinnon is the main surgeon, according to a source close to Tuoitrenews.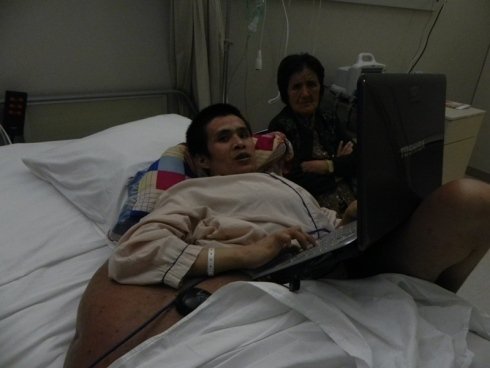 Hai pictured before the historic surgery.
Dr. McKay McKinnon, who is known worldwide for successfully treating similar tumor cases, visited and examined Hai at the hospital situated on Nguyen Luong Bang Street in District 7 shortly after he and his landed wife at Ho Chi Minh City-based Tan Son Nhat Airport on Tuesday morning.
Upon arriving at Hai's sickroom, the American doctor said through an interpreter, who is a nurse at the hospital, that Hai is now in better health and no longer suffers lung problems, so his condition could satisfy all requirements for the coming surgery.
According to Hai, Dr. Mc Kinnon said he will be sent to the operating room on the morning of January 5, and his surgery will last from 10 to 12 hours.
However, the doctor acknowledged that the success rate of this operation is about 50 percent.
"It's common for people to fear death, and I'm no exception. But when I heard that Dr. Mc Kinnon had decided to come back to Vietnam one more time to give me a new life, I became more hopeful," Hai said.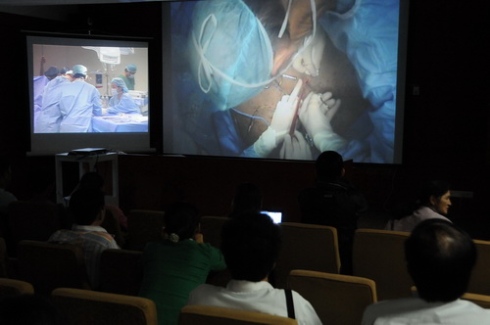 Hai told Tuoi Tre on Monday afternoon that he was transferred to FV on December 27 from HCMC-based Tumor Hospital, which failed to meet the conditions for his surgery.
Originally the surgery was planned to take place on November 18, with a Vietnamese – American surgeon team led by Dr. McKinnon performing the operation. However, it was canceled due to Hai's worsening health condition, a report from the HCMC Tumor Hospital said.
Hai said he has had regular health checks and is now in very good health.
"After the operation, if you hear ringing from my phone, it means that I'm still alive," he joked.
For his part, the American surgeon said in an earlier interview with Tuoi Tre that Hai's operability is high but added that there is little time for him because his condition will worsen fast as the tumor keeps growing, and will seriously damage his heart and his circulation, among other body functions.
Having successfully treated many giant tumors in his 30-year career, particularly one of a similar size to Hai's on an American woman in Michigan in 1999, Dr. McKinnon said he is positive about the chance of success for the surgery, which could reach 50 percent or more.
"The patient was a little bit older and in worse shape than Mr. Hai. She had a massive operation done, even when we knew her heart was not functioning and her lungs were either compromised or failing."
"She survived that surgery after 50 units of blood transfusion. She was in the hospital for about 6 weeks, and required physical therapy for about a year.
"And the woman is now leading a normal life, I am happy to say."
The operation in live report: 6:30am:
Hai was sent to the operating room.
6:40am – 8:50am:
Hai was anaesthetized and sterilized on the operating table before the surgery began.
8:55am:
Dr Mc Kinnon begins to operate on Hai with an electric bistoury.
10:00am:
Doctors removed a part of the tumor which is 50cm long and 5 or 7cm deep.

11:00am:
A foreign doctor of FV hospital told Hai's family that the first phase of the operation is a success.
In the mean time, La Thi Thu Hang, Hai's sister-in-law who is watching the surgery through live TV, told Tuoitrenews that during the operation, doctors took a white clot, which looked like a chicken egg.
11:15am:
Doctors operated down to Hai's rear end.
1:30pm:
The surgery team halted the operation for a while to wash medical equipment and to take a short rest. Before that, they had sutured major blood vessels to prevent bleeding.
The doctors told Hai's family that the operation is expected to finish at 9:00pm today.

7:00pm:
the operation to remove his giant tumor was announced to be successful.
9:15pm:
Hai was sent to the recovery room and the historic operation was officially finished.
The surgery team includes five of FV hospital's anesthesiologists, McKay McKinnon (the main surgeon), and three surgeons of FV including Dr. Phan Van Thai, Dr. Le Duc Tuan, and Dr. Nguyen Quoc Thai. In the mean time, Dr. Gerad Desvignes, medical director of FV, is directly supervising the operation.
Dr. McKinnon has agreed to waive his fee on Hai while the remaining costs, around VND252 million (around $12,000), will be covered by donations raised at home and abroad.
Tuoitre