VietNamNet Bridge – Closeted gays can hide themselves but for coming-out gays, they have to suffer from nitpicking glances and contempt of others.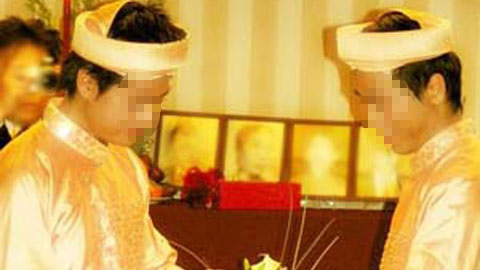 Coming-out gays face a lot of difficulties in daily life owning to the community's discrimination, which hinders them from having access to health services. This gay couple organized their wedding ceremony in HCM City. They have settled in Canada, where allows same-sex marriage.
Some coming-out gays hope to have hospitals for gays because when they go to hospital, they do not know where to go, the room for male or female patients.
Trung, a member of K.V.S club for gays in Hanoi, is a coming-out gay. He wears like a woman and speaks with female voice. "It is better to be a closeted gay. I'm miserable to be a coming-out gay," Trung said.
Trung is always eyed by people on the street. They point and whisper when they see him from a distance. "They look at me because I'm different, different in negative meaning," Trung says.
Trung says he does not participate in any community activities held by his office. Since he graduated university, he has changed job five times due to discrimination.
Coming-out gays like Trung, therefore, always aspire to have transgender operation, besides the aspiration to be accepted by the society.
Also a member of K.V.S club like Trung, Minh looks exactly a woman because he has breasts, a gentle face and smooth voice. Trung says Minh performed a transgender surgery in Thailand to become a woman.
Minh's family paid huge amount of money for the surgery, which has helped turned his life to another direction.
Trung says he wishes to have a transgender operation like Minh but the fee is huge.
There is a big trouble for gays, even after transgender surgery: their physical appearance is women but in legal documents, they are still men.
"Once I went to a bank to borrow money but I could not because I looked different from my personal papers. When I made my ID card, officers asked me to cut my hair and put on men's clothes," Trung said.
Nam, in Hanoi, came out three years ago. Since then he has never gone to hospital, though he is very sick.
Nam explains: "I could not go to hospital because I do not know to go to the male or female examination rooms. Furthermore, they disdain me."
According to STDs/HIV/AIDS Prevention Centre's research, of nearly 1,000 gays in five cities interviewed, 86 percent say they want to have friendly health service for coming-gays.
Vu, a coming-out gay in Can Tho city, says: "I do not dare to go to hospital because I have a male name but I have breasts. They will question me why and look at me curiously."
Huy, chair of the Night Starlight club for gays in Da Nang City, says: "At the hospital door we are pointed and glanced. Doctors even refuse to make check-up for us."
Gays like Nam have to treat diseases themselves or go to private clinics to avoid discrimination and stigma.
Nam says: "I often let my diseases self disappear, buy medicines to treat at home or go to small private clinics."
Discrimination of doctors and gays themselves has built up barriers for gays to approach healthcare services. Without timely and proper treatment, they can easily spread their diseases to their partners and the community if they do not use condoms.
N.An – Than Trung Dung