VietNamNet Bridge - Chu Mo Commune in Ia Pa District in the Central Highlands province of Gia Lai, was one of the regions known for breeding elephants. However, Ksor Cham is now the only one who feeds the elephants in Plei Pa Kdranh Village.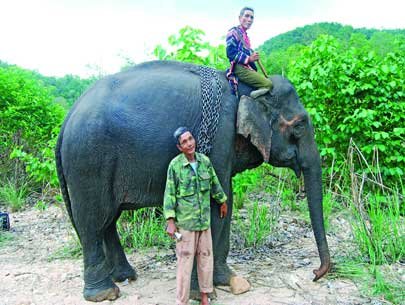 Ksor Cham, Ksor Aluh with the elephant Ya Tau.
Ksor Cham told Tuoi Tre Cuoi Tuan newspaper that his family has kept elephants for generations. In 1970, after his father's bull died, he bought another one, and named it Bak Xom. It helped his family carry goods and do farm work. Thanks to its support, their lives improved.
In 1990, Ksor Cham bought a 20-year-old cow at the price of five taels of gold. It became Bak Xom's wife and was called Ya Tau, which means daughter-in-law in the Jarai language. He gave the elephant this name because he regarded it as his daughter-in-law. Three years later, Bak Xom died from a serious disease. The elephant couple had no babies.
Besides helping Ksor Cham's family carry wood for other local households to earn money, Ya Tau has become a member of his family. In late 2009, a man from another village asked him to sell this elephant but he was determined to refuse.
Everyday, Ksor Cham and his son-in-law, Ksor Aluh, go to the forest to care for Ya Tau. Ksor Cham has been recognized as the final elephant keeper in Gia Lai, and his work helps preserve traditional customs in the Central Highlands.
Venue for antique lovers
Tran Quang Vinh was born in France's New Caledonia. When he was young, he had a passion for ancient vehicles and other items, which were collected by his father, a mechanic. To pursue his passion, he decided to study mechanics. Later, he flew to Vietnam with old items he and his father had collected.  
Vinh opened a shop in Hanoi named Xe cô quan (Vintage Vehicle Shop). It is like a small museum filled with old vehicles and other antiques. He says that this shop is a venue for all who share the same interest in antiques.
When going to this shop, everyone will have a chance to enjoy watching various vintage motorcycles and scooters, such as the 1951 Motobécane scooter, whose brake is on the left side and gearbox on the right, and the 1938-1941, 750cc BMW motorbike. Vinh owns about 30 vintage motorcycles and scooters. As well, visitors can see other antiques including an old phonograph or a fan branded Marelli. Vinh still continues collecting more and more antiques to this day, reported Van Hoa newspaper.
Family life in the East Sea
"The East Sea is home," says fisherman Nguyen Van Ai, 62, in Binh Dinh Province, when he talks about his life. Ai says that he and his wife Nguyen Thi Lam, 60, set foot in Xuan Binh Hamlet, My An Commune, Phu My District, when the region was deserted. Later, local people moved there to live on the sea. Here, their eight children were born.
Thanks to the East Sea, their life has improved. His six sons and two sons-in-law are all fishermen, and his family is now famous as they own four high-capacity boats which catch fish near the Truong Sa (Spratly) Islands. Among these is a 900-horsepower boat equipped with modern facilities and able to stand gale winds at forces nine or 10. This boat collects fish from the three other boats and sails ashore for sale. After the fish is sold, the boat will carry necessities to the other three to help them continue catching. Ai intends to build another 1,000-horsepower boat, reported Thanh Nien newspaper.
Source: SGT