VietNamNet Bridge – Thousands of rice hectares in the southern province of VInh Long has been hired by Chinese traders in the name of local people, for many years to plant sweet potatoes.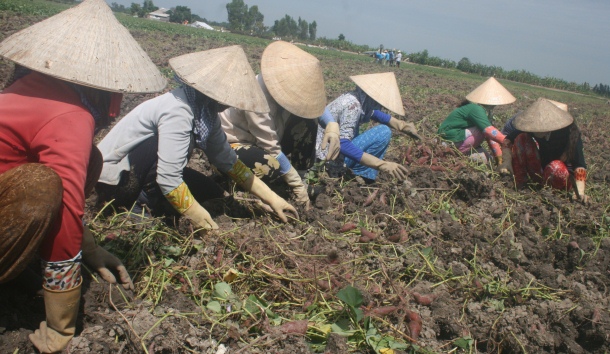 In Thuan An commune, Binh Minh district, Vinh Long province, there are around 130 hectares of sweet potato owned by several people. They hire workers to take care of the fields. During the harvest season, hundreds of hired workers work on the field.
"D", a woman who hired 50 hectares there told VietNamNet: "This land is appropriate to grow sweet potato so I hired a large area to grow sweet potato to earn profit". However, local people said that the woman's business is supported by a Chinese trader.
Like D, a man named Nam in Cai Von town, Binh Minh district, hired more than 10 hectares in Thuan Phu Be hamlet, Thuan An commune to grow sweet potato.
Tan, 23, Nam's son who manages the sweet potato field, said: "The outlet for sweet potato is stable so my family bravely invested in a vast area to plant Japanese sweet potato. Last year we hired six hectares and the profit is quit high so this year we will hire 10 hectares".
Tan said he is only in charge of techniques, hiring workers and his father takes care of the output. Tan assured that his family self invests in the field to export to China.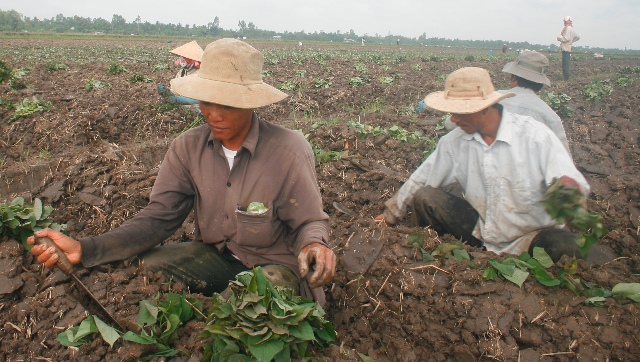 Phuong from Thuan Phu B hamlet told VietNamNet: "Profit from rice is as not high as from sweet potato. Furthermore, all rice fields around my field are leased for planting sweet potato. My family has to lease our field, too because lack of water and being afraid of rat attacks."
As a result, Phuong has leased her field.
According to VietNamNet's investigation, Chinese traders shelter behind local people to hire land to plant sweet potato to export to China and third countries.
Nguyen Van Tap, Vice chief of the Agriculture and Rural Development Department of Binh Tan district, said: "The area of sweet potato is rising fast. As the price for sweet potato highly increases, farmers are replacing rice by sweet potato". One hectare of sweet potato yields VND130 to 150 million ($6,000-7,000).
Tap said not only Binh Tan but the neighboring Binh Minh district has become the field of sweet potato.
Vo Van Dung, Vice chair of Thuan An commune, Binh Minh district said: "The campaign to plant sweet potato appeared in 2009 but until Chinese traders involved in, the area devoted to sweet potato has soared to 130 hectares."
Phan Thi Be, chief of Binh Minh district's Economic Department, also toll VietNamNet said the are of sweet potato has risen to nearly 200 ha. Rice fields have been replaced by sweet potato.
Ba Cho in Thuan Phu B village said: "The 10 hectare rice field behind my house has become the field of sweet potato".
Dung, vice chair of Thuan An commune, said that it is difficult to make statistics and manage sweet potato fields because most of the land is hired in the names of local people.
At present, over 20 Chinese traders have come here to collect sweet potato. According to Binh Minh district's authorities, there are ten warehouses totaling over 3,400 square meters of Chinese traders in this area. Around 500 Vietnamese workers work at these warehouses, without labor contracts.
Chinese traders pay them VND10,000-15,000 ($0.5-0.7)/hour for classifying, cleaning, casing and loading sweet potatos to trucks to transport to China through the northern border gates.
Lieu Cam Hien, deputy director of the Department of Agriculture and Rural Development of Vinh Long province said, that replacing rice by sweet potato doesn't affect food security in this area because this is not the key area for rice. However, he worried that as Vietnamese sweet potato is only exported to China, once this market changes its taste, Vietnamese farmers will suffer.
Some local farmers also told VietNamNet that they worried that Chinese would control the sweet potato growing area because they have began forcing prices for sweet potato down during the harvest season.
Vinh Long authorities have told competent agencies to inspect the situation.
Minh Dung