Biogas reservoirs for rural households
At least 100 biogas reservoirs have been built for rural households in northern Tuyen Quang Province under the "Biogas for livestock farm" project launched by the Ministry of Agriculture and Rural Development last year.
The reservoirs produce methane from decaying plant and animal matter, which is then turned into electricity.
The province plans to install 473 biogas reservoirs by the end of 2012.
39 dead bodies found in former coffin shop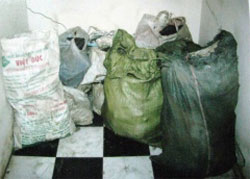 Dead bodies packed in bags in a room. (Photo: Thanh Nien)

Upon visiting his house in Ho Chi Minh City's Binh Chanh District last month, Le Viet Thuy, an overseas Vietnamese living in Japan, found 39 dead bodies packed in bags in a room, Thanh Nien Newspaper reported.

According to Binh Chanh District's police, who are yet to find out the dead bodies' identities as well as the cause and time of death, 42-year-old Thuy, used a friend name's to buy the house when he visited Vietnam many years ago.

In 2004, 46-year-old Duong Van Loc from District 8, asked Thuy over the phone to rent the house to open a coffin shop. Thuy agreed.

On October 22 the same year, Loc inaugurated the coffin shop which he named Tan Loc Coffin Shop.

Three years later, he transferred the shop to Dang Thi Diem Suong who changed the name to Thien Tho Coffin Shop.

In 2009, because of losses, Suong closed the shop and "disappeared."

According to the police, a preliminarily investigation found that in 2009 Suong signed a contract with local authorities to exhume 184 tombs in Binh Chanh District's Da Phuoc area.

But no evidence shows that the dead bodies belonged to these tombs. The police are thus looking for Suong as the key person who may know the answer.

Meanwhile, Loc told the police that after he transferred the shop to Suong, he went to a pagoda in Khanh Hoa Province to become a monk and hasn't been in touch with her ever since.

Overseas students to get new association

The HCM City-based Viet Nam Youth Federation on Sunday announced that it would set up an overseas Vietnamese student association to create a bridge between students currently studying abroad, students who want to study abroad, and those who had once studied overseas.

Tran Phuong Ngoc Thao, the association's chairwoman, said the association would provide domestic news to overseas Vietnamese students and offer scholarships for students who want to study abroad.

The association will be the link between the Government, domestic and foreign enterprises, and overseas Vietnamese students, she said.

The association's former name was the Overseas Vietnamese Student club, she added.

Vietnamese-French awarded France's top honor

The French Government yesterday awarded its highest accolade, the Cross of the Legion of Honor to 91-year-old Bui Van Tuyen, a Vietnamese-French for his contribution to the development of French-Vietnamese relations.

The honor was given to Tuyen by French Ambassador to Vietnam Jean Francois Girault in a ceremony held in Ho Chi Minh City yesterday.

Tuyen, a successful entrepreneur in France, was among the first overseas Vietnamese to return to Vietnam to do business in the 1990s.

Tuyen has set up companies in the northern province of Hai Duong, his native land, and Ho Chi Minh City which employ many people.
Tuyen's companies produce embroideries and porcelain and ceramic souvenirs, grow mushrooms, and raise French swans.

Vietnam to have computerized lottery

Prime Minister Nguyen Tan Dung on Monday approved the establishment of Vietnam Computerized Lottery Company.

The company will be a state-owned liability limited company based in Hanoi with chartered capital of VND500 billion (US$ 24.3 million).

The company's revenues will be used to develop medical facilities, education, and social welfare for localities that host its services.

Strike leader in HCMC attacked

21-year-old Son Thanh, a worker of Tan Lap Thanh Plastic Co., Ltd. in Ho Chi Minh City, was yesterday beaten violently by a group of unknown people after leading a strike to demand higher wages.
At 3:30 pm yesterday, July 11, while Thanh and other workers who had taken part in the strike were standing 50 m away from the company, five unknown young man arrived on three motorbikes and swiftly attacked him.
When Thanh fell to the ground, one of the attackers said, "You were beaten for leading the strike."
The attackers fled the scene before the Binh Tan District police showed up.
Thanh suffered many wounds in the head, neck, ears and eyes.
According to Lam Tuan Dung, the company's director, Thanh and other workers had been on strike since June 9 to demand their salary be raised by VND300,000 (US$14.5) per month.
Dung said his company was still negotiating with the workers and denied any allegation that the company had hired people to beat Thanh for instigating the strike.
The Binh Tan police said they are questioning Thanh, several witnesses, as well as the company's executives to identify the attackers.

Singapore, WB help HCM City improve environment

International Enterprises Singapore (IE Singapore) and the World Bank will help choose suitable public-private partnership (PPP) and private sector participation (PSP) models for the second stage of the Ho Chi Minh City Environmental Sanitation (Nhieu Loc-Thi Nghe basin) project.

A memorandum of understanding to this effect was signed between IE Singapore, the WB and the municipal People's Committee in Ho Chi Minh City on July 11.

Nguyen Phuoc Thao, Director of the municipal Flood Prevention Centre said that the city was conducting research into a feasible PPP/PSP model for the project's second stage, including the construction of a drainage system and a wastewater processing plant with a daily capacity of 830,000 cubic metres.

Started in March this year, the project has so far received 290 million USD from the WB.

The project's first stage, which generated initial positive impacts on over two million city people, will be finished by the end of this year.

Tan Soon Kim, Director of the Southeast Asia Group of IE Singapore said this is the first time his organisation has provided technical assistance to Vietnam, which would make a foundation for deeper cooperation between Vietnam and Singapore.

Alain Barbu, Operations and Portfolio Manager of WB said the WB has so far pledged over 600 million USD to the city and planned to provide another 200 million USD for the sanitation project's second stage.

Plans to give labourers a meal allowance

The Government is considering a plan to raise labourers' minimum meal allowance to VND15,000 (US$0.75) per shift as a result of the rising price of food.

The current meal allowance, which firms have to pay, is VND8,000 – VND12,000 ($0.38 – $0.57).

The price of essential food items has increased by 18.68 per cent in the first of this year.

Lack of money keeps villagers in landslide peril

For years, nearly 100 houses in northern Yen Bai Province have stood in the shadow of a mountain that constantly threatens to send large amounts of sand and stone tumbling down upon them during the rainy seasons.

Le Van Thang, a resident of Trung Tam Village in Tan Linh Commune, Yen Bai Province, said his family's home had already been affected by landslides three times.

The worst one occurred last May after a three-hour downpour, when three cubic metres of soil and stone fell onto his house and caused the loss of about VND30 million (US$1,470).

Thang said he had never felt secure living at the foot of the mountain and hoped to move to a safer place.

Many other villagers reported similar damage, saying that mountain landslides were endangering 20 other households in the village, filling the roads with debris and occasionally creating traffic.

Chairman of Tan Linh Commune People's Committee Hoang Ngoc Chan said local residents in nine of the commune's 18 villages lived in unsafe places.

According to Chan, the uncontrolled exploitation of the mountain's trees for wood, combined with poor management of forest protection were among the key reasons for the danger.

He said the committee managed to move 16 households in the most dangerous spots to safer places. These households were given loans with low interest rates to settle down. However, it would not be easy to move the rest due to a shortage of funds and land.

The committee has reported the situation to the Luc Yen District authority to take further measures.

Man learns to drive tractor, killing mother

A man unintentionally killed his mother as they transported dry wood on a contractor Monday morning in Phu Yen province in central Vietnam. 

Police said Vo Tuan Thanh, 24, controlled a tractor brimming with dry wood with his mother behind but when he went through an empty road, the wood unexpectedly dropped down, causing the vehicle to fall down a paddy field nearby. 

The mother was then crushed by the wood. She died when she was taken to hospital for emergency care. 

The deceased was identified as 49-year-old Do Thi Bong.

The man is learning to drive the vehicle, according to police.

Missing girl's body found in garden

A decomposing female body was discovered in a litchi garden at a private house in Hai Phong northern city last Friday after the house owner detected an unpleasant smell, local police said.

Police identified the deceased as Ta Thi Bich Huong, 20, hailing from the city's Thuy Nguyen District.

The victim's family said Huong left home on July on bicycle and had gone missing since then. Her family had struggled to search for her but they failed.

Huong used to be a worker at the Nomura Industrial Zone, but she quit her job because of illness.

Police are investigating.

Attacked whistleblower continues to pursue thieves

Despite having been brutally revenged by a motorbike thief gang last month for helping the police to catch some gang members, Nguyen Tang Tien in the southern province of Binh Duong continued to pursue four more thieves yesterday, July 11.

On his way to deliver bread to shops on Monday afternoon, Tien saw four suspicious men on two motorcycles carrying a car battery coming out of the Song Than Industrial Zone.

He immediately followed them and found they are members of a gang that he and his fellows have kept an eye on for a long time.

Tien tried to catch one of the thieves but he was attacked by the rest of the gang. Tien, whose wounds from previous fights with thieves are yet to heal, shouted for help and another whistleblower came to his rescue.

The four thieves fled the scene, leaving a motorcycle and the battery.

The local police are searching for them.

HCM City tries to cut number of poor households

HCM City aims to reduce the rate of poor families to less than 5.4 per cent by the year-end, according to the city's Department of Labour, Invalids and Social Affairs.

For the next six months, the city plans to launch more poverty-reduction programmes and offer more social subsidies as well as financial support to poor families, especially those with an annual income of VND7 million (US$338) per capita.

The programmes include building a network of job centres and holding more job fairs, and providing more business loans to poor families.

The department will also update the list of new poor families in the city in order to ensure that they benefit from the city's preferential policies.

In a recent workshop between the City People's Committee and the department last month, the department reported that 229 poor people were employed and 12 poor labourers were sent to work overseas during the first six months of the year.

Currently, the city has 103,709 poor families with an annual income of VND12 million ($579) per capita, accounting for 5.68 per cent of the total number of the city's families.

The city's poverty reduction fund has provided loans of more than VND188.8 trillion ($9.1 million) to 37,244 poor families in the city since the beginning of this year.

The city provided health insurance cards to 207,570 poor people and subsidised school fees, with total funds of VND8.8 billion ($425,121), to poor students in the first six months of the year.

The city has also provided additional subsidies to help with increasing electricity prices.

Some districts have encouraged kindergartens and home-based nurseries to refrain from charging higher fees for poor families and low-income workers.

Socio-economic plans must look at new census

In order to develop effective socio-economic plans at any level, officials need to consider the most recent population census, said Duong Quoc Trong, director of the General Office for Population and Family Planning in a press conference in Ha Noi yesterday, July 11.

The conference was held by the Ministry of Health and the United Nations Population Fund (UNFPA) to launch a campaign named "7 billion actions" with the motto "The World at 7 Billion: Counting on Each Other" to commemorate World Population Day on July 11. The world is expected to reach a new record of 7 billion inhabitants by the end of October.

Trong said that the authorities should have prepared for possible problems by making suitable plans beforehand, working off the information provided in the country's population census.

He cited the failure to consider population statistics as one reason why the country was not fully prepared for the high number of primary school students in 2009.

"We should have foreseen the overload 6 years earlier from the birth rate increase [in 2003]."

Similarly, he added that plans to meet future demands for contraceptives and the need for reproductive health care services could have already been addressed if the current number of young adult women had been taken into consideration earlier.

UNFPA experts agreed, saying that socio-economic policies at both national and local levels must pay closer attention to population studies and the issues they bring to light, especially the trend toward domestic female migration and the rapidly ageing population.

They also said that long term education plans of each locality need to make use of population projections to address problems before they occur, such as accommodating the number of children who want to attend school.

According to Mandeep Janeja, UNFPA's officer-in-charge, Viet Nam's population, currently at 87 million, will continue to grow by around 9 million people within the next 10 years, even though the birth rate has fallen slightly as of late.

The country, therefore, is faced with numerous challenges regarding gender equality, environmental protection and poverty while enjoying certain opportunities created by the growing population.

The most notable of these, as Janeja and Trong pointed out, was the advantage of having a large proportion of working age people in the population.

UNFPA are supporting Viet Nam to investigate the country's current population issues, which will inform socio-economic plans and policies.

Janeja said that the Ministry of Health and United Nations in Viet Nam are working together to develop plans for several activities within the next few months.

The highlight of these activities will be the release of a World Population Report, which offers an analysis of the challenges and opportunities created by the world's population growth to 7 billion people.

Nutritional supplement overdose

Doctors say Vietnamese consumers are being fooled by exaggerated ads about the cure-all benefit of nutritional supplements.

In Ho Chi Minh City, shops selling beauty care supplement food advertised to be high-quality imported products are numerous.

A fashion and cosmetic shop at 145A Nguyen Trong Tuyen Street in Phu Nhuan District for instance is known among many female customers as having a large supply of high-quality Japanese nutritional supplements.

Asked to introduce some skincare products, the shop owner showed Tuoi Tre a dozen different ones, including a box of Neo-Vita White Plus that costs VND550,000 (US$27).

"Take 6 tablets a day to whiten your skin, removing wrinkles and freckles and also giving you additional vitamins C and E," she said, recommending some hair growth products for men.
Her products, she said, were all imported from Japan.

At another wholesale shop in Go Vap District, all supplement products were also said to be hand-carried goods from Japan, French, Australia, the US, and China.

This shop's owner said the shop's most popular product now is the Japanese supplement food BB Beast Beauty, which helps to enlarge women's breasts.

In Hanoi, an online sales company is advertising two supplement products GoGoBig and Tighten Vagina Expert on its website as its most popular products.

GoGoBig will give customers a naturally looking sexy breast after 15 days and can also serve as an aphrodisiac, the ad says.

For its part, Tighten Vagina Expert is said to lessen the elasticity loss of pelvic and vaginal flaccid muscles because of pregnancy or age.

The website representative said these two products cost a total VND1 million ($50) and could be delivered nationwide.

Although the products are supposed to be hand-carried from Japan, Tuoi Tre found a Vietnamese label on one of the GoGoBig boxes.

Websites selling nutritional supplements with dubious origins like this have mushroomed in HCMC and Hanoi and have attracted many customers.

Many pharmacies also have a considerably large space to store and present supplements and so do supermarkets which sell these products as "diet food".

An employee of a pharmacy near Tan Dinh Market in HCMC's District 1 said more and more people are using nutritional supplements.

"There are now supplement food for every kind of disease," he said.

But doctor Dang Cong Han from the HCMC-based Gia Dinh Hospital said Vietnamese consumers are overusing supplements.

"Nutritional supplements in Vietnam are advertised as being able to cue diseases, which makes consumers overestimate the effect of supplement foods and overuse them," he said.

VNN//VNS/Tuoi Tre