VietNamNet Bridge - Agriculture and Rural Development Deputy Minister Ho Xuan Hung spoke with the Tien Phong (Vanguard) newspaper about a national programme to build new rural areas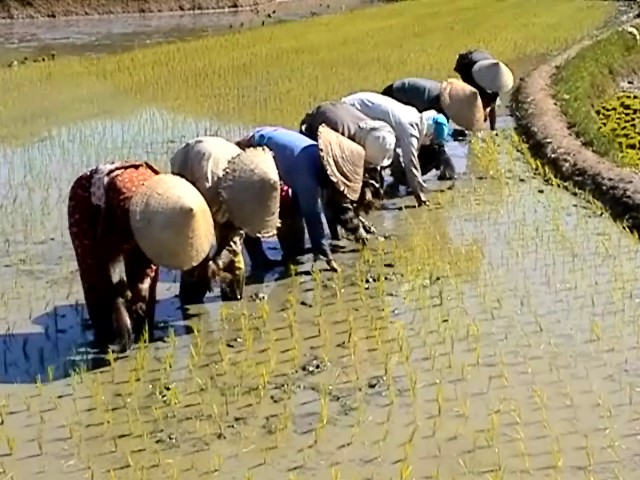 What is the farming community's position now?
Farmers suffer great disadvantage. They are weak economically and politically. I have repeatedly spoken about the matter at meetings with high-ranking leaders.
Leaders from the central to grassroots levels agreed that not just money but also human resource training is needed. The quality of grassroots officials is not good enough. Regulations concerning payment and training grassroots cadres have not yet received proper attention. Communal officials once told us that their opinions were disregarded as though they were outsiders. It is the same with agricultural policies. Once considered a top priority, agricultural production has been left half-done. Many strategy makers whose parents were peasants sneaked away when making policies for rural areas. They did not want to invest in rural areas which require a huge investment.
The Party has for the first time implemented a comprehensive resolution on agriculture, and rural areas. It has gained the support of people from all walks of life. The resolution aims to improve farmers' lot and meet the country's goal of becoming an industrialised country. To implement the resolution, pilot projects were launched in 11 communes nationwide.
How has the implementation of these projects gone?
New rural areas need to be built based on a master plan. Things can't happen in a random manner as in the past. We need to concentrate on improving production and the living conditions of farmers. There also has to be a change in the type of work farmers do. Some communes have built new rural areas and achieved significant results, including improved infrastructure and incomes of between 2-2.5 times higher than those two years ago.
Can you elaborate further on how farmers should participate in building new rural areas?
It's not just a matter of building roads, schools, hospitals and improving electricity supplies. We have to boost farmers' material and spiritual life. Everything must be directed toward this goal and it is the farmers themselves who must implement it. Many cities and provinces have simply relied on consultants to do their planning. That is wrong as it is the farmers themselves who best understand their socio-economic situation. We are trying to modernise rural areas. To do that we need to seek farmers' opinions.
Many localities have simply concentrated on infrastructure. They have not paid attention to shifting production and raising farmers' incomes. What do you think about that?
We need to build infrastructure. That is fundamental. Without modernisation nothing will change. But that is just one part of building new rural areas. Shifting production needs time. We can't improve productivity, crop selection and animal husbandry overnight.
Farmers would have become rich if they had been able to decide for themselves what crops to grow. Is not just about low prices and high productivity. We need to develop local specialities.
Surely a national master plan on new areas would conflict with the interests of local communities?
That is true. Building new rural areas must involve the whole Party and local people. For this reason, the whole country has been called upon to build new rural areas.
Is that true that most local authorities complain about difficulties to raise farmers' incomes?
We of course realise that it will be difficult. However, we must do it because it is absolutely necessary. In these new rural areas, the goal is to raise incomes by 1.5 times that of major cities and provinces. At present, 87 per cent of poor households nationwide are living in rural areas. There is a big gap between the rich and the poor. Some localities have asked us to adjust the target but we have refused. We may not achieve the goal in the next five or ten years but we must reach it in 20 years time.
Only five out of 11 communes have achieved this goal. Why have some succeeded where others have failed?
Firstly, those that have succeeded have put in place the right conditions. Secondly, they were able to invest in shifting production to raise incomes. Many companies have come to Tan Hoi Commune in Central Highlands Lam Dong Province's Duc Trong District, for instance, to invest in vegetable production. In general terms, localities will develop quickly if they can attract investors.
Is it difficult to successfully build new rural areas if localities fail to attract enterprises from urban areas. Is that what you're saying?
It is important that industry invests in agriculture. Urban areas must invest in rural areas. The urban workers and intellectuals must help to boost farmers' livelihoods. It is not the State's role to buy farmers' products. It is enterprises that must do that. The Government recently issued a resolution to attract enterprises to rural areas. More importantly, in my opinion, enterprises should invest in their homeland.
Source: VNS