VietNamNet Bridge - Quang Trung Software Park and Saigon Hi-Tech Park are two leading information technology centers of Vietnam, which are boosting the domestic hi-tech industry with their significant achievements.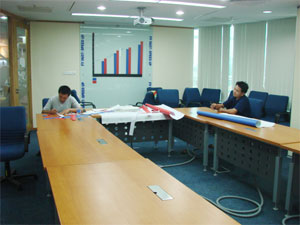 Quang Trung Software Park attracted many projects on technological infrastructures and rental office buildings and software developing centers in the last 10 years, with the total investment of more than VND1.81 trillion (US$90.5 million).
Of the amount are the investment of VND214.65 billion employed from the state's budget and fund of around VND1.6 trillion raised from investors.
Many more investment projects have followed at the country's software center, with a total investment of more than VND4 trillion.
Statistics show 101 companies in the information-technology sector were located in the park, including 43 foreign firms and 58 local ones.
The number of employees working at the Quang Trung Software Park amounts to nearly 24,000 people, comprising of 4,752 software programmers and IT experts.
Experts said Quang Trung Software Park had proved to be a success of Vietnam's hi-tech industry since it was elected as the President of Asia-Oceania Software Park Alliance at an annual conference held recently in Malaysia in 2011.
The park has been a member of the alliance for two years, according to VOV News. Assuming the new post, the Software Park will contribute to promote Vietnam's software industry to the world, offer cooperative opportunities and attract investment to the country's new industry.
"Quang Trung Software Park is the first-ever software developing center nationwide gaining four crucial achievements, including the largest number of hi-tech employees, the highest revenue, the most steady growth rate and the largest amount of IT human resource," said Minister of Information and Communications Le Doan Hop.
The smaller IT center Saigon Hi-Tech Park has been put into operation in District 9 since 2002, with an area of 913 hectares.
Among 50 investors pumping the total investment of $2 billion into the park are the world's leading software developers including the US's Intel and Datalogic Scanning, Japan's Nidec and Denmark's Sonion.
Vietnam's hi-tech giants comprising of FPT, Vinagame, Nanogen and CMC also established their plant in the area.
Rick Howarth, general director of Intel Products Vietnam, said Saigon Hi-Tech Park's good infrastructures and profuse human resources encouraged Intel to opt for the park.
"The government aims at a steady economic growth rate, with hi-tech parks' development task being top priority," said State President Nguyen Minh Triet.
IT industry is expected to be among Vietnam's leading economic sector by 2020, contributing up to 8-10 percent of the gross domestic product (GDP) and putting the Southeast Asian country into top 10 software developers around the world.
Analysts said the biggest obstacles that hi-tech parks are coping with are shortages of experienced human resources and spaces for existing firms' expansion and newcomers.
A recent meeting on IT development highlighted that IT job applicants in Ho Chi Minh City lack foreign language skills and expertise associated with their major courses of study. Experts chalked it up to bad schooling.
Less than 10 percent of graduates from Ho Chi Minh City IT training centers – including universities, colleges and vocational schools – found employment in the 2001-2007 period, according to figures released in a report at last week's conference, titled Training and Developing IT Human Resources.
Saigon Hi-Tech Park said it sped up the progress of infrastructure projects in order to improve the quality of essential services including electricity, water supply and telecommunication networks.
Source: SGGP