VietNamNet Bridge – The Dong Kinh Market, the biggest and most bustling market in the border province of Lang Son, is considered the "paradise" of prohibited hi-tech goods, where imitated products are dirt cheap.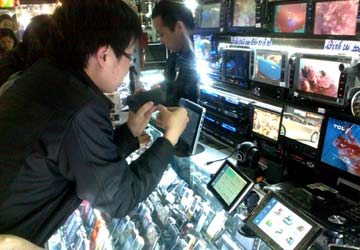 Those who have cars, would be interested in GPS (global positioning system) devices. However, if they do not want to spend money to buy genuine software Vietmap which is priced at no less than 4-6 million dong (US$200-300), they can use the imitated Vietmap sourced from China.
GPS devices have been available at Dong Kinh Market in large quantities. At all the kiosks here, people can easily find the imitated digital map which has the surprisingly low price of one million dong integrated in a device with unfamiliar brand "LLC". The device uses 12V electricity sourced from the built-in lighter. It has a 3.5-4 inch color touch screen with instructions in English, Chinese and Vietnamese.
At Dong Kinh Market, the "floor price" for GPS device with 3.5 inch screen integrated with Vietmap software 2007 version. The same device with Vietmap software 2009 version is 300,000 dong more expensive. "The products do not allow updates If you purchase the product priced at 1.3 million dong to install in your car, it can get the signals emitted from the police's speedometer from the distance of one kilometer," a seller tried to persuade a man to purchase the products.
In fact, no one knows for sure about the real quality of the products; however, the surprisingly low prices can easily persuade people. The goods are so cheap that buyers would not regret much if they can use them for some time even if they have to throw them away later.
Besides GPS devices, high-tech buyers can also find eye-catching mobile phones which have been designed with the inspiration from super cars such as Porscher Lamborghini, or Hummer.
Most of super car-styled mobile phones have 2.2 inch touchscreen with 65,000-256,000 colours, and 2.0-12.0 megapixel camera. The mobile phones allow the user to listen to MP3 music, watch MP4 film… and have the price of two million dong on average. However, the mobile phones which allow two-wave simcard (both CDMA and GSM networks) are priced at 2.5 million dong.
In fact, such mobile phones are also available in Hanoi. They are much cheaper, by hundreds of thousands dong per product, than at Dong Kinh market.
However, the biggest problem here is that buyers at Dong Kinh Market cannot use the warranty services, while they can do if purchasing products in Hanoi. In fact, some sellers offer warranty services in order to attract more buyers. But buyers would have to go back to the market, 150 kilometers far from Hanoi.
The noteworthy thing in the market is that prohibited goods are displayed openly. The "black technology" products, such as cameras, or key hooks with eavesdropping devices, are available at all electronics kiosks.
Most of these products are as small as matchboxes. The products use 900, 1800 and 1900 MHz band of GSM network and they have installed the MiniSIM of mobile phone in order to be used as sound recorders.
In February 2011, according to Buu dien, as the supply is profuse, the devices are selling very cheaply, at 500-650,000 dong. The products with more complicated functions which allow to automatically call  those, who want to eavesdrop, would be 100,000 dong more expensive.
The currently valid Government's Decree No. 59 stipulates that all eavesdropping equipments are listed as prohibited goods. However, at Dong Kinh Market and other markets in the border provinces, such as Tan Thanh, Dong Dang in Lang Son province, Coc Leu in Lao Cai, the laws have been "ignored". In fact, the market management taskforce has turned a blind eye to the products.
Source: Buu dien