Three Vietnamese students have been awarded first prize at the Intel International Science and Engineering Fair (Intel ISEF) 2012 in the field of biology.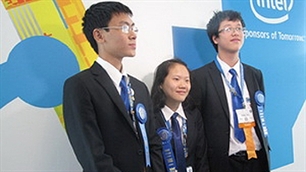 The prizewinners include Tran Bach Trung, Bui Thi Quynh Trang and Vu Anh Vinh, all from the Hanoi-Amsterdam High School.
Their project named "Desalination by Using Solar Power and Vacuum Technique for Daily Use" was appraised as having minimal environmental impact, low cost and being easily deployed in the community.
Their research also won first prize in the previous Vietnam Science and Engineering Fair (VISEF) 2012.
The project is highly practical as many countries in the world are now looking for new and alternative forms of energy.
The Intel ISEF competition has been held since 1950. This year it took place in Pittsburgh, Pennsylvania, USA, from May 14-18, drawing the participation of over 1,500 candidates from 70 countries and territories around the world.   
VOV