VietNamNet Bridge - Ho Chi Minh City's Hiep Phuoc Power Co., Ltd has proposed doubling the current power price to offset losses as a 15% hike starting next month is too low.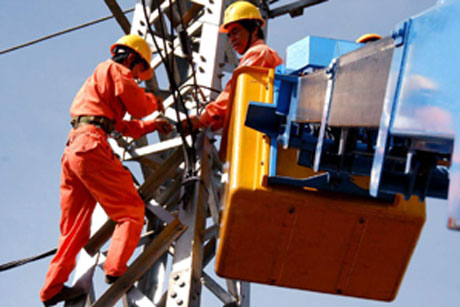 Yesterday the City People's Committee and relevant agencies had a meeting with the firm about the shocking proposal.
The 100% foreign-owned company, located in the city's Nha Be District, reiterated at the meeting that "Hiep Phuoc Power Plant, owned by the company, will likely close on April 1 if its power price is not raised at such a rate."
Loss of US$120 million
Hiep Phuoc said the plant's production cost has recently increased by $15 cent per kWh, which resulted from a rise in world oil prices and a cut in gas supply to the company for the past several months by the Vietnam Oil and Gas Corporation.
The Corporation explained to Hiep Phuoc that the aggregate supply of gas was just 20 million cubic meters per day, while the aggregate demand soared to a 23.1 million cubic meters per day.
Hiep Phuoc said the price of imported gas is thrice the domestic price and the company could not import it.
Meanwhile, the plant has sold electricity to the Tan Thuan Export Processing Zone and the South Saigon Urban Area for just $5 cent as regulated by the Government.
As a result, the plant suffered a great loss amounting to $120 million in the 2005-2010 period.
Hard to approve
"The power selling prices must be the same nationwide, no matter where the power is sourced from," the Southern Fertilizer Joint Stock Company said.
Xuan Mai Paper Co., Ltd. said its overhead expenses would soar by as much as VND600 million ($28,800) per month if Hiep Phuoc's plan is passed.
Meanwhile, Hiep Phuoc insisted it could not continue operation without such a rise in power price.
The company pointed out that while power plants affiliated with the Electric of Vietnam (EVN) enjoyed a subsidy from the Government, Hiep Phuoc was given nothing.
HCMC People's Committee deputy chairman Nguyen Trung Tin said he sympathized with Hiep Phuoc but it would be very hard for the Committee to approve a power price that is higher than government-regulated price.
For the time being, Hiep Phuoc should continue supplying power at current prices and the People's Committee will send a proposal to relevant ministries and the government to seek a solution to this case," Mr. Tin said.
If Hiep Phuoc halts its operation, the ongoing power shortage will get worse, warned Nguyen Vu Quang, deputy head of the Ministry of Industry and Trade's Electricity Moderation Department.
In the next four months, the country may be in short of 1.6-1.7 billion kWh, he said.
Source: Tuoi Tre