VietNamNet Bridge – Before officially stopping its direct aid to Vietnam in 2016, the UK's non-refundable aid for Vietnam by 2015, will reach £70 million (around US$114 million), according to an agreement side on May 26.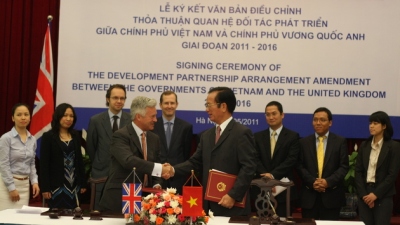 Minister of State, Alan Duncan MP and Minister of Planning and Investment, Vo Hong Phuc at the signing ceremony.
On May 26, UK Minister of State for International Development, Alan Duncan and Vietnamese Minister of Planning and Investment, Vo Hong Phuc signed the UK-Vietnam strategic partnership agreement for the 2011-2014 period in Hanoi.
Under the agreement, the UK has committed itself to providing up to £70 million in aid to Vietnam until 2015.
The funding aims to support Vietnam in meeting the Millennium Development Goals; achieving strong growth that is inclusive, low-carbon and led by the private sector, along with strengthening efforts to tackle corruption and enhance accountability.
The signing took place after the two governments stated to heighten their relations to strategic partnership last September.
The UK will replace Sweden as the lead donor on anti-corruption in Vietnam.
"I am pleased to have agreed the next five years of our development partnership. The aid commitment enshrined in the DPA Amendment today, together with our new role as lead donor on anti-corruption in Vietnam, shows the great importance that the UK attaches to the bilateral relationship with Vietnam," said Duncan.
The UK and Vietnam entered into a ten year DPA in 2006. By 2011, The UK, through the Department for International Development (DFID), has granted over £380 million (US$619 million) in aid to Vietnam.
In addition, since 2006 nearly £19 million (US$30.95 million) in debt relief has been granted to Vietnam through the Multilateral Debt Relief Initiative for humanitarian efforts.
In March 2011, the UK confirmed that its aid to Vietnam would end by 2016, marking the conclusion of the DPA.
Chung Hoang