VietNamNet Bridge - Development partners pledged US$7.9 billion in official development assistance (ODA) for Vietnam in 2011 at the end of the two-day Consultative Group (CG) meeting in Hanoi on December 8.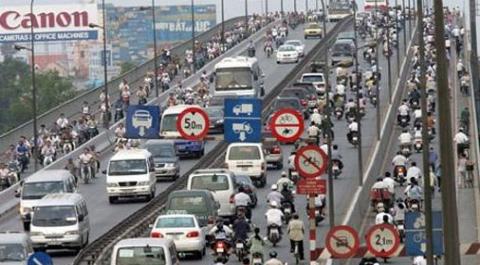 Minister of Planning and Investment Vo Hong Phuc announced the total amount of ODA pledged for Vietnam next year, mainly for infrastructure, transportation and climate change, including $3.3 billion from bilateral partners ($1.76 billion from Japan) and the remaining $4.6 billion from multilateral partners.
This is the first time in the past several years that the committed ODA for Vietnam reduced. Earlier, it rose from $3.7 billion in 2005 to $8 billion in 2009.
Last year, the World Bank was the largest donor with $2.5 billion and Japan was the largest bilateral donor with $1.64 billion. This year Japan still maintains this position.
"Though the amount of ODA committed for 2011 is lower than the level in 2010, the figure of $7.9 billion is still impressive," Phuc said.
As Vietnam enters Middle Income Country status, it cannot be granted the preferential lending treatments that it enjoyed before, Minister Phuc says, noting that ODA will have shorter lending terms but higher interest rates.
Because of that, Vietnam will prioritize ODA for projects that will serve economic development and are capable of paying back the loans they get, Phuc said.
He also said this amount will mainly be used for infrastructural facilities, transport projects, and programs to deal with climate change.
The $7.9 billion ODA amount committed at this year's CG meeting brings the total ODA sum pledged for Vietnam since 1998 to over $64 billion.
The mid-term CG meeting in 2011 will take place in the central province of Ha Tinh in June.
| | |
| --- | --- |
| Vietnam's five largest bilateral donors | ODA pledged for 2011 (million USD) |
| Japan | 1760 |
| South Korea | 412 |
| France | 221 |
| Germany | 199 |
| USA | 142 |
| Vietnam's five largest multilateral donors | |
| World Bank | 2601 |
| Asian Development Bank | 1500 |
| Non-governmental organizations | 270 |
| United Nations | 140 |
| European Union | 88 |
Vietnam - a good model of ODA use
At the two-day CG meeting in Hanoi, the Vietnamese government and development partners discussed opportunities and challenges that Vietnam will face when it enters a new period of development.
Their discussions also focused on measures to stabilize the macro-economy, promote pubic governance, combat corruption, and securing future relations between Vietnam and its development partners when it becomes a middle-income country.
Development partners praised Vietnam for working out plans to resolve issues relating to climate change and sustainable environment and pledged to promote their assistance for steady development thus enabling Vietnam to reach its millennium development goals by 2015.
The WB Country Director Victoria Kwakwa praised Vietnam as a good model of ODA use for other countries to follow, with disbursement reaching $4.1 billion in 2009 and $3.5 billion in 2010. She said that Vietnam's experiences have been mentioned at major international forums and meetings which provided an excellent opportunity for it to share its experiences with other countries in the world.
The WB hopes to continue to witness Vietnam's achievements in many other fields and help the country boost socio-economic development on an effective and sustainable basis, she said.
Minister of Planning and Investment Phuc thanked partners for assisting Vietnam in coping with challenges to become a middle-income country and hoped that Vietnam would continue to receive effective support from development partners in the future.
"We are aware that along with Vietnam's development, ODA recipient status and structure of funding will be changed in line with every step of the country's development, but we are now recognized as a middle-income country," Phuc said.
"Vietnam needs ODA and support from other countries to deal with important issues relating to healthcare, education, poverty reduction, climate change. The Vietnamese government is committed to using ODA effectively," he added.
Deputy PM Pham Gia Khiem also emphasized the significance of ODA in Vietnam's social and economic development plan in 2010-2015 and said that the Vietnamese government will try its best to use this source of capital the most effectively.
Linh Thu