VietNamNet Bridge – Lawmakers in the National Assembly have agreed that tax cuts and exemptions would help ease production and business difficulties sweeping the nation.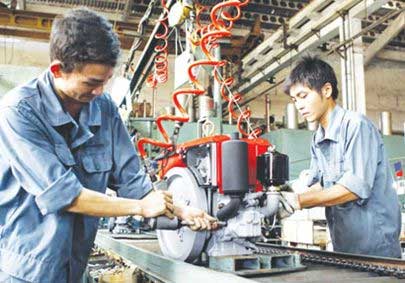 Workers of Southern Viet Nam Engine and Agricultural Machinery Co Ltd operate a production line. Businesses nationwide are expected to meet fewer difficulties when they receive tax cuts and exemptions which have been approved by the National Assembly. (Photo: VNS)
Most Assembly deputies supported a Government proposal to cut taxes by 30 per cent for small and medium enterprises and for those enterprises in specific fields with a large number of workers.
In addition, value-added tax and income and enterprise taxes would be cut for individuals and households renting houses or rooms to students and workers, or those who provided baby-sitting or industrial meal services, with the proviso that all prices be held at last year's level.
Most deputies agreed the tax measures would help enterprises and labourers overcome problems due to a shortage of capital or product output. The resolution on measures to solve production and business difficulties was expected to be adopted by the Assembly near the end of its session.
Deputy Phung Van Hung from Cao Bang Province said incentives to help enterprises overcome difficulties should focus on main points instead of a broad-brush approach.
"However," Hung said, "we should not support very weak enterprises because it is a good chance for us to restructure enterprises."
Deputy Mai Huu Tin from Binh Duong Province said the Government should consider reasonable criteria for defining small and medium enterprises in order to increase the number of businesses benefiting from tax cuts.
Deputy Nguyen Thanh Hai from Hoa Binh Province said measures should focus on reducing input expenses for enterprises.
Deputy Tran Thanh Hai from HCM City said 56,000 guesthouse proprietors had committed to holding rent prices for 1.5 million workers in HCM City.
"Tax preferential policy of the National Assembly would benefit workers and labourers directly," Hai said.
Deputy Tran Du Lich, also from HCM City, suggested the Assembly consider tax cuts in the fields of agricultural and material production.
"The Assembly and the Government should send a clear message that it was reducing enterprise taxes by 25-30 per cent to create a strong driving force to help production and trading," Lich said.
Meanwhile, the Assembly yesterday, June 12, also discussed the draft of a revised and amended law on tax management and adopted a resolution on building laws and ordinances this year and correcting last year's programme.
VietNamNet/Viet Nam News