The global financial crisis has presented an opportunity for countries to change and make a breakthrough by building a new, suitable model of development, said State Vice President Nguyen Thi Doan.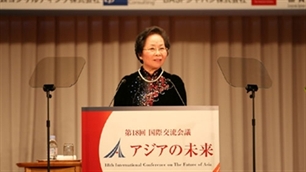 Ms Doan was delivering a speech at the 18th International Conference on the Future of Asia hosted by Tokyo, Japan.
"Defining a development model that deals with the profound causes of the recent financial crisis as well as the long-term challenges of each economy and each nation is an effective way to take advantage of opportunities," she said.
"There will be no common model applicable to all countries, due to differences in development levels as well as contexts," she added.
Ms Doan said for Asian countries, the new growth model should give priority to boosting domestic demands, ensuring social welfare, narrowing the rich-poor gap, and protecting the environment.
Aware of this, Vietnam is boosting economic restructuring with a focus on investment, finance, and banking and enterprises, she stressed.
Vietnam's economic reform encompasses curbing inflation, ensuring social security, developing a green economy, and reforming public administration.
Ms Doan's also highlighted the role of regional economic connections in creating a favourable climate for the process of restructuring and renewing the economic model of each nation.
She said Vietnam highly appreciates the important role of Japan in cooperation with ASEAN, Mekong sub-region countries and Vietnam.
The speech received positive response from the delegates.
Yasuhiko Oita, from Japan's Nikkei newspaper, was impressed with Vietnam's economic development policy.
During her visit to Japan, Vice President Doan granted an interview to Nikkei, reaffirming Vietnam's policy of strengthening regional connectivity.
VOV