VietNamNet Bridge – The Asian Turtle Program (ATP) of the Cleverland Metropark (USA) has chosen a wetland area in Binh Khuong commune, Binh Son district in the central province of Quang Ngai, to build a naturel reserve to protect a local tortoise species.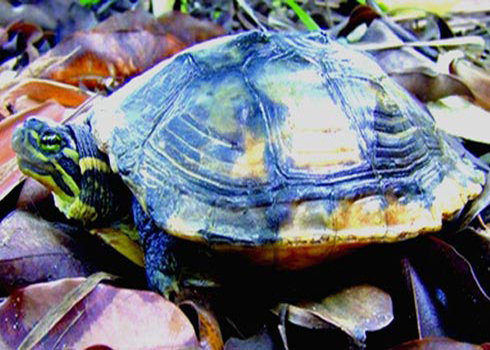 Tim Mc CorMack, ATP director, said that Binh Khuong commune has the best living conditions for the Trung Bo (Central Vietnam) turtle.
The establishment of this reserve is scheduled in early May of 2011. The reserve will cover 8 hectares. Some organizations such as, the Alliance for the Living of Turtles (USA), the Critical Ecosystem Partnership Fund (CPEF) and the US Fish and Wildlife Service (USFWS) provided over $20,000 to this project. The funding will gradually rise on an annual basis, based on the development and effectiveness of this project.
The animal (Mauremys anammensis) only lives around flooded areas in Da Nang, Quang Nam, Quang Ngai, Binh Dinh and Phu Yen provinces along the coast. Their habitat has been endangered by recent development and human encroachment.

Urban development and turning forest land into farmland have been blamed for diminishing the tortoise's home.

According to experts, there are no Trung Bo turtles left in Vietnamese nature reserves. Hence it's urgent to locate their remaining habitat to preserve them.

Mature turtles will be put into the core zones at the reserve for reproduction purposes, ATP said.

The reserve will receive some 200 Trung Bo turtles from Cuc Phuong Turtle Reserve in the north and several other places, and around 200 rare turtles from the Cleveland Metrapark.
Vietnam currently has four turtle species on the list of the most endangered turtle species in the world, including Rafetus swinhoei, Cuora trifasiata, Mauremys annamensis and Cuora zhoui.

ATP has worked since 1998 to promote tortoise and freshwater turtle conservation.
PV