VietNamNet Bridge – The Hanoi Department of Science and Technology will kill red-ear turtles in Hanoi's Hoan Kiem Lake in March to protect the legendary turtle.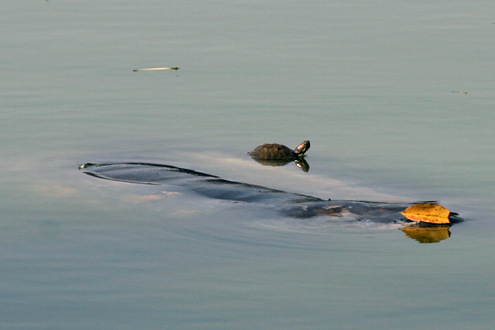 "The temperature will increase in March. At that time, red-year turtles will go to the shore to expose themselves to the sun. That will be a favorable time to eliminate this dangerous species," said the department's director Le Xuan Rao.
An international workshop on turtles will be held in Hanoi this week, Rao said. Vietnamese and international experts will discuss measures to kill the exotic turtles and to protect the old turtle in the Hoan Kiem Lake.
Earlier, the Hanoi Department of Science and Technology proposed two methods to eliminate the red-ear turtles while making sure that the ancient turtle is left unharmed.
The first method is using plastic or steel cages to catch the turtles. The second way is to place floating rafts on the lake. Red-ear turtles will crawl onto the rafts to expose themselves to the sun, and then caught in the nets below.
Rao said that both methods will be first tested
Experts and the public are currently very worried about the health of the ancient turtle. On February 12, Professor Ha Dinh Duc, who has researched the ancient turtle for over 20 years, said that the legendary turtle had recently risen to the surface many times, with many new injuries that he had never seen before.
In the past few days, the turtle tried to crawl to the bank and bite a rubber pipe. Duc said that this was a way the turtle showed his anger.
"The ancient turtle is struggling with the polluted environment and injuries on his back. If we don't take timely measures, his life will be in danger," Duc said.
Duc had previously suggested bringing the ancient turtle to the shore to cure his injuries and kill red-ear turtles in the lake.
There are only four turtles of the same species as the ancient turtle in the Hoan Kiem Lake in the world, including two in Vietnam and two in a zoo in China.
PV