VietNamNet Bridge – People in Viet Nam have rising concerns about the effects of the environment on their health and well being, a survey released recently by market research firm Cimigo has found.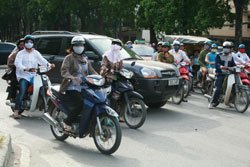 Motorcyclists wear masks to avoid dust and exhaust in Ha Noi. (Photo: VNS)
Pollution has residents in Ha Noi and HCM City particularly worried.
"Seventy-five per cent of people surveyed describe their physical environment as their top concern for 'healthy living,'" Cimigo managing director Joe Wheller said.
The survey polled 2,000 individuals spanning all socio-economic classes in the country's two largest cities.
"We suspect this is driven by concerns over pollution of Viet Nam's natural environment.
"Indeed, the results from another survey showed that 81 per cent of Vietnamese people list pollution as one of their strongest external fears."
Interestingly, and in spite of trends toward urbanisation around the nation, the consensus among respondents is that the healthiest lifestyles are to be found in traditional village communities.
"This relates partially to the cleaner environments of the smaller towns, where less traffic and lower levels of industrialisation lead to cleaner air, but also to the ready availability of fresh and healthy locally grown produce, which Vietnamese also place as a top priority for a healthy life," Wheller said.
Vietnamese are well aware of the need for a healthy diet as a key driver for a healthy life, and an increased intake of fruit and vegetables (64 per cent) is seen as the number one means to this end.
Around half of the respondents identify exercise as important for their health, with men more actively involved in sports like badminton and football, and women preferring yoga.
Walking is uniformly identified as the most common form of exercise undertaken.
VietNamNet/Viet Nam News