VietNamNet Bridge – Experts have warned that climate change is making strong impacts on the Cat Ba biosphere reserve in the northern port city of Hai Phong. They urge the government to have a plan to assist the local community to cope with this phenomenon.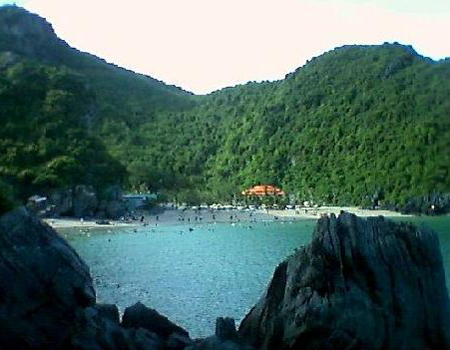 The UN Educational, Scientific and Cultural Organization (UNESCO) recognized Cat Ba peninsula as the world biosphere reserve in October 2004. This site has grandiose and unique natural landscapes, caves and famous historical relics. Cat Ba is one of several places where ecological tourism and scientific research are developed strongly.
However, scientists have warned that in the last 50 years, climate change has changed the look and geology of the coastal area of Cat Ba. They urge the government to quickly have a plan to protect the reserve.
Le Thanh Tuyen, from the Cat Ba biosphere reserve management board, said that in the last decade, the temperature there increased by 0.12 degree Celsius. The average temperature in 1991-2007 rose by 0.4 degree Celsius over the 1961-1990 period.
Tuyen also named abnormal natural phenomena on Cat Ba, including flood tide, hoar frost, hail, whirlwind and coastal erosion.
According to the Institute for Marine Resources and Environment, the sea level in Hai Phong has risen by 20cm in the last five decades. The average temperature is increasing while the average rainfall is reducing.
Mark Hawkes, an expert from the Cat Ba biosphere reserve, said that there is no comprehensive research of the impacts of climate change on Cat Ba but its signs are clear in local people's life. That's the shortage of fresh water in the dry season, some wells becoming salty and the narrowing of water area for aquaculture due to the increase of sea level.
Experts propose to develop plans to cope with climate change for separate communities in the fields of agriculture, aquaculture and education.
Cat Ba Island is one of eight UNESCO Biosphere Reserves in Vietnam. Cat Ba peninsula possesses a large number of ecosystems and habitat types and a wide variety of plant and animal species, most notably the endangered golden-headed langur. The Ministry of Agriculture and Rural Development first recognized Cat Ba as a protected area in 1983 and it has since received recognition as a national park in 1986, a Marine Protected Area in 1995 and most recently as a UNESCO World Biosphere Reserve in 2004.
TA