VietNamNet Bridge – Viet Nam's climate change adaptation strategies need a long-term focus and should be integrated into mainstream policies targeting sustainable rural development and poverty reduction, experts said at a seminar in HCM City last Friday.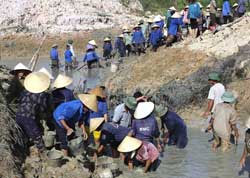 Residents in My Son Commune, in Nghe An Province, dredge a local canal used to irrigate crops. The region has been hit by a severe drought. (Photo: VNS)
Truong Hong Tien, Deputy Director General of the Viet Nam National Mekong Committee, said that global warming and its impacts were inevitable and very much in evidence.
"Although the negotiations at the UN Framework Convention on Climate Change is crucial to our efforts in tackling climate change, we are aware that whatever limits are imposed on greenhouse gas emissions today, some level of warming of the earth will take place."
He said the ongoing global warming process would lead to an increase in weather extremes, causing severe droughts and excessive rain.
These events have become more frequent and intense in many parts of the world, and the Lower Mekong Basin was particularly vulnerable to these hazards, Tien said.
Over the past few years, an increase in damage caused by extreme weather events was witnessed in the lower Mekong Basin, he said.
"From the mountainous areas of northern Laos to the low-lying Mekong Delta of Viet Nam, the impacts of climate change are being felt thoroughly," Tien said.
"We can hear news more often about floods, droughts and storms which affect the well-being and livelihoods of weather-dependent communities."
Tien said people in the lower Mekong River basin have been adapting themselves to the surroundings for centuries.
For instance, raised houses were typical in areas that used to be flood-prone, Tien.
"You can also look around and see that various agencies, civil society organisations, international, inter-governmental organisation and even the private sector in the region are making efforts to alleviate the crisis and minimise damage caused by climate change at the local level," he said.
"Sharing experiences and exchange information on these and other areas such as climate related risk management will certainly contribute to our understanding on how to deal with the climate change and enable us to mainstream adaptation and disaster risk reduction into development planning and implementation."
The "First Meeting of Climate Change Adaptation Demonstration Projects in the Lower Mekong Basin: Sharing Lessons and Experiences," organised by the Mekong River Commision (MRC), aimed to be a platform for development practitioners to exchange experiences and learn from other existing and/or planned adaptation actions in the Lower Mekong Basin.
The meeting gathered more than 100 participants, comprising senior government officials of the MRC's member countries and dialogue partners (Myanmar and China), development and implementing partners, and especially practitioners working on demonstration projects in climate change adaptation in the Lower Mekong Basin.
The MRC has developed the Climate Change and Adaptation Initiative in order to assist riparian countries in adaptation planning and implementation.
Lack of clarity
In a technical paper submitted at the conference that reviewed adaptation approaches, tools and methods as well as projects implemented in the Lower Mekong Basin (LMB) nations, the MRC said "adaptation is still not a well understood concept."
While there were many tools and methods available for adaptation planning, guidance on how to select approaches was lacking.
In Viet Nam, the national adaptation strategies have mainly focused on reducing the risk posed by natural hazards, the report noted.
Viet Nam's Ministry of Agriculture and Rural Development has been carrying out a US$109 million plan to restore mangroves along the country's coastline, it said.
Other adaptation activities are being implemented as part of the National Strategy for Disaster Prevention, Response and Mitigation, which included various "mandatory requirements for flood safety and security in residential areas," the report said.
However, "the strategies focus on emergency responses rather than long-term adaptation to the future climate change.
The report said Cambodia has carried out 98 projects to address climate hazards through national disaster management response projects.
However, recent studies showed that preparedness to respond to extreme climate events was quite low, it added.
VietNamNet/Viet Nam News