VietNamNet Bridge - A local carbon forest investor is stirring Vietnam's carbon credit market.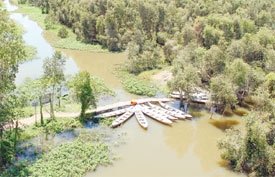 Hanoi-based Vietnam Carbon Exchange Limited (VCE) and its partner Australian Voluntary Credits Limited (VCL) told VIR they completed a site survey and were implementing project document design, for a carbon-absorbing Reduced Emission from Deforestation and Forest Degradation (REDD) project in Bach Ma National Park in central Thua Thien-Hue and Quang Nam provinces.
VCE said it was also conducting site surveys for its other two REDD projects at Xuan Son and Ba Be national parks based in northern Phu Tho and Bac Kan provinces, respectively. The three new projects, which are expected to be the first REDD projects in Vietnam to be implemented by a local private company, came after VCE and VCL successfully implemented the first REDD project in northern Tam Dao National Park.
The Bach Ma project will benefit some 63,000 local inhabitants whose lives largely depend on forest and deforestation, while help protect thousands of animal and plant species in the Bach Ma Park.
"Under the 30-year project, the forest will be able to absorb 15,535 tonnes of biomass each year. The cumulative carbon sequestration of the project's whole cycle is expected to be 0.36 million tonnes of carbon," said a VCE representative.
"A significant amount of cash has been invested into this project. Carbon forest projects are quite new in Vietnam. We want to grab this opportunity," he said.
Meanwhile, the Tam Dao-based 30 year project will be able to absorb 50,000-60,000 tonnes of biomass and 40,000-50,000 tonnes of carbon each year. In total, this forest will be able to absorb 1.2-1.5 million tonnes of carbon. This project covers 32,000 hectares of natural forest located in Vinh Phuc, Thai Nguyen and Tuyen Quang provinces and will benefit nearly 200,000 local inhabitants.
Unlike some carbon forest projects in Vietnam that engage in planting forests, these two projects are involved in conservation and promotion of bio-diversity of the natural forests in the country.
"The projects are aimed to develop 'real' REDD projects for vulnerable areas of forest protection and biodiversity in Vietnam's national parks," the VCE representative said.
VCE said it invested capital into keeping the forests and the product was commercial carbon credits, which would be approved by international bodies and then sold to companies in need of owning such credits.
VCL's director Bruce Rowntree said these two projects would make the environment greener while helping attract more foreign companies into Vietnam, where carbon-absorbing projects begin to develop.
"Environmentally friendly business is forming a crucial factor in the business strategies of many companies in the world, including in Australia," Rowntree said, adding that VCL was successfully implementing some similar projects in Indonesia and Papua New Guinea.
Vietnam is recognised as one of the top five countries to be most affected by climate change. It has been identified by international bodies as a country in essential need of forest restoration and sustainable management of high biodiversity natural tropical forests.
Some major initiatives, such as World Bank REDD Programme, UN-REDD project, AusAid's, GTZ's and SNV's REDD programmes have been started. Those projects are official development assistance supported and targeted to strengthen capacity and readiness for REDD.
Source: VIR