VietNamNet Bridge – Education and training departments in many provinces and cities have drawn up plans to improve the quality of local English teachers through further training after discovering that most achieved very low scores in international English tests.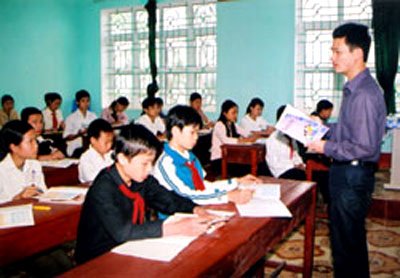 Students study English at Cao Loc Secondary School in Lang Son Province. (Photo: VNS)
The Ministry of Education and Training's National Foreign Language Project requires, by 2020, primary and junior high school teachers of English to score at least 525 in the Test of English as a Foreign Language (TOEFL) or 5.5 on the International English Language Testing System (IELTS).
Teachers at high school and higher must achieve 575 or 6.5.
Surveys in many provinces and cities have found that few achieve these scores.
In southern An Giang Province, for instance, out of 1,500 English teachers at all levels, only 165 managed to achieve them.
In neighbouring Tien Giang Province, only 10 per cent out of more than 900 did.
In HCM City, it is just 171 of 1,100.
Nguyen Ngoc Hung, the project manager, told Tuoi Tre (Youth) newspaper that the ministry conducted the surveys in 30 provinces and cities. On average, only 97 per cent of high school teachers and 93 per cent of primary and junior high school teachers meet the ministry's standards, he said, explaining teachers' listening and speaking skills were found to be very low.
The ministry has been surveying the 34 remaining provinces and cities, he said.
Poor training at pedagogical universities is to blame, according to local education and training departments.
Nguyen Ngoc Vu, head of the HCM City University of Education's Foreign Language Faculty, said besides there was no opportunity for teachers to practise English listening and speaking skills because school curriculums focus just on grammar and vocabulary.
Van Cong Sang, head of the HCM City Department of Education and Training's staff office, said training courses were set to start for English teachers who had failed to meet the ministry's benchmarks.
The department would give priority to recruiting teachers who achieve high scores in international English tests from 2012-13, he added.
Vinh Phuc and Quang Ninh Provinces and Ha Noi in the north said they would send English teachers for training in the Philippines, Malaysia, and Singapore.
Hung said the ministry has completed assessment of a pilot training programme for primary school English teachers at pedagogy universities, and it would be introduced at all teacher training schools next academic year.
It has also instructed 18 universities and colleges to train selected primary school teachers in English so that they can go back and teach the language, he said.
It provided training in English for 2,500 primary school teachers last year and will do so for another 2,500 this year to serve the National Foreign Language Project.
Besides, 2,800 English teachers at junior high schools and 400 others at high schools for gifted students will receive training this year as part of the project.
VietNamNet/Viet Nam News