American publisher Apress has published an English book by a Vietnamese student who is pursuing a Master of Information Technology program in Australia.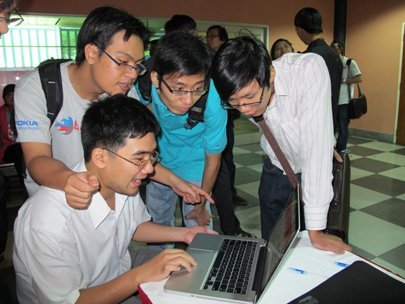 Vo Duy Khang (seated) joins an IT event called Barcamp Saigon at RMIT
Vietnam University in HCMC's District 7 on December 11, 2011.
The publisher has introduced Pro iOS Apps Performance Optimization by Vo Duy Khang on its website at http://www.apress.com/9781430237174.
The book "covers many common but difficult problems when tuning and optimizing performance for iPhone and iPad applications and how to resolve these problems
efficiently," Apress wrote.
The book includes basic knowledge on common problems in iPhone applications, advanced knowledge over data structure, algorithms, multithreading, and network data in iPhone applications, as well as comparison with problems and solutions for Android and Windows Phone applications, according to the publisher.
Amazon.com has also put it online.
Khang graduated from RMIT Vietnam University in November 2010 and travelled to Adelaide, Australia, where he is now completing a Master of Information Technology with Carnegie Mellon University under a full scholarship, according to RMIT Vietnam.
In Australia, he has set up a small business that is operating with five staff members who are all RMIT Vietnam students and alumni, according to the university. He just came back to Vietnam in November seeking further talent from Vietnam to join his operation.
SGT