The Ministry of Education and Training has announced new regulations exempting 12th grade students who receive prizes for excellence in national contests from sitting for entrance exams in universities and colleges.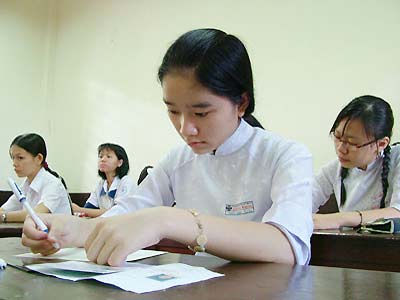 Under the new regulation, the students who have won third prize in a national contests will go straight from school to university, without having to sit for an entrance exam.
Likewise, those winning encouragement prizes will be eligible for enrolling in 3 year programs in colleges or technical institutes.
In case winners don't want to go straight to university, they can take the entrance exam to enter schools. Normally, candidates take three exams of 180 minutes each for a fixed group of subjects.
There are 4 fixed groups of subjects namely Group A: Mathematics, Physics, Chemistry; Group B: Mathematics, Biology, Chemistry; Group C: Literature, History, Geography; and Group D: Literature, Foreign Language, Mathematics. Besides these, there are also other groups.
If they get marks above pass mark with no "zero" mark in a subject, they will be given priority in university admissions.
Students taking part in the selection exam for international contests, usually known as Olympic contests, will be exempt from high school graduation exam, and those who are Olympic team members will be admitted into universities or colleges of their choice without sitting for an examination.
Moreover, they will get priority to study in a foreign country on scholarship, paid by the government.
In addition, the Ministry of Education and Training said it will organize oral tests in the national contest for excellent students in   foreign language contests and practice tests for Physics, Chemistry and Biology. However, they need to prepare a roadmap and suitable measures to implement such a program.
SGGP