VietNamNet Bridge – Joe Jackson, 82, the father of the King of Pop Michael Jackson, arrived in Vietnam February 11 to attend the ground-breaking ceremony of a five-star hotel project in the southern province of Long An.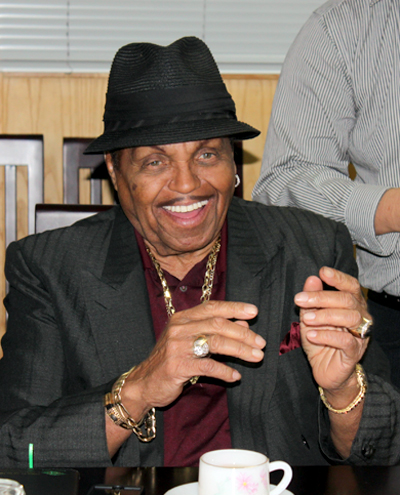 On February 12, he met with Phan Thi Phuong Thao, chairwoman of the Khang Thong Group in Ben Luc district, Long An province as an independent investor of the group's five-star Happyland hotel.
As an independent investor, he is set to be one of the signatories to a project to build a five-star, 1,000-room hotel covering 15 ha in large-scale Happy Land amusement park worth around US$2 billion located in Ben Luc District in southern province of Long An, 20 minutes away from Ho Chi Minh City.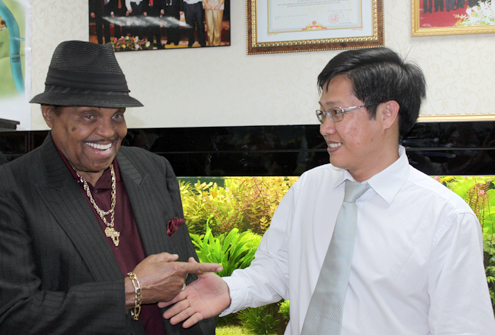 According to Ho Chi Minh City-based Khang Thong Group, Happyland is a project of complex entertainment district, with an area of 338ha in the first phase and 350ha in the second phase.
Considered the largest entertainment district in Southeast Asia, Happyland is designed to attract 14 million visitors each year and expected to open on April 24, 2014.
Happyland will boast many different constructions such as a theme park, resorts, hotels, high-class villas, simulated cities, among others.
Jackson said he invests in this project because he liked traveling. "I like discovering different cultures in the world. Tourism and environment are also my interests," he said.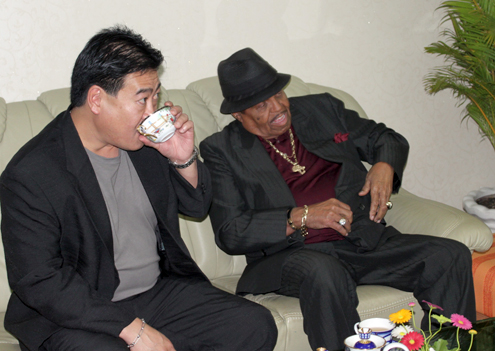 "There are many favorable conditions for investing in Vietnam. I like this project the most because it is located in a beautiful cultural and natural space".
He attended the groundbreaking ceremony on February 14.
Joseph Jackson was born in Fountain Hill, Arkansas. His parents separated when he was 12. He moved with his father to Oakland, California, where he lived until turning 18 years old, when he moved to East Chicago, Indiana, to live near his mother. While there, he met his future wife Katherine Scruse.
Settling in Gary, Indiana, Joseph, a former boxer, worked full-time as a crane operator at Gary's U.S. Steel company, while Katherine tended to their children. In the mid-1950s, Joseph started a music career with his brother Luther, playing guitar in a band called The Ford Falcons. The group split up a couple of years later after failing to get a recording deal. Joseph returned full time to his job at U.S. Steel.
By 1964, Joseph had discovered that his three eldest sons, Jackie, Tito and Jermaine, had a musical talent. He had Tito play for him with Jackie and Jermaine backing up vocally. Seeing their budding talent, he helped form an early incarnation of The Jackson 5 with two neighborhood youths though eventually younger brothers Marlon and Michael joined.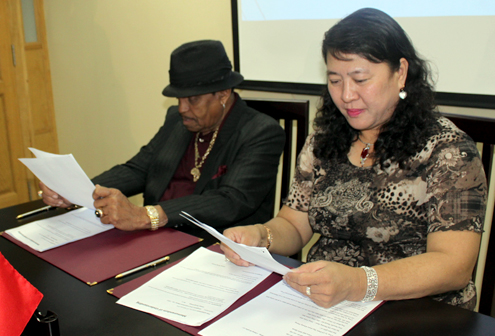 Within a few years, the Jackson 5 polished their talents under Joseph's strict leadership. In 1967, the Jackson brothers turned professional and began performing in paying gigs, which paid off after the group got signed to Motown Records in 1968, and shortly afterwards the brothers became international recording stars. Joseph's role as manager dwindled however as Motown CEO Berry Gordy began to take more charge on his act, a role that reverted back to Joseph when he began managing the entire family for performances in Las Vegas. Joseph also helped his sons seal a deal with CBS after leaving Motown distraught that the label did not allow the boys creative freedom in the studio. Within a few years, however, Joseph's sons each left his management company to sign for other managers, starting with Jermaine. In 1982, Joseph also managed the careers of his three daughters Rebbie, La Toya, and Janet until all three eventually left his company for solo ventures.
Michael Jackson was the most successful member of the Jackson family. Jackson had a troubled relationship with his father. Jackson stated that he was physically and emotionally abused during incessant rehearsals, though he also credited his father's strict discipline with playing a large role in his success.
PV