VietNamNet Bridge – Visiting Truong Luy archaeological site in the central province of Quang Ngai last weekend, the head of the European Commission delegation to Vietnam Sean Doyle suggested Vietnam to quickly have detailed project to preserve this heritage.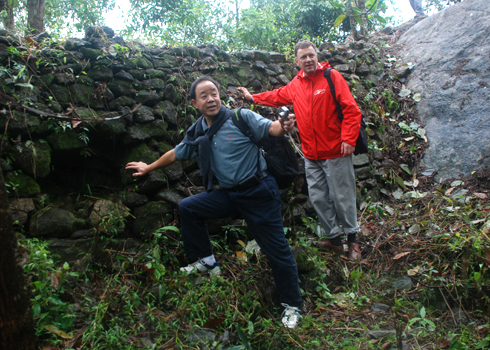 "We commit to assist Quang Ngai province in connecting EU member countries to help the province further research and invest in this unique architectural work to heighten it to an international level," said Ambassador Doyle after the visit, which had the participation of the ambassadors of France, Poland, Hungary, the UK, Greece and Italy.
The site is one of the country's most important archaeological discoveries in a century, after five years of exploration and excavation conducted by foreign and local archaeologists at the Vietnam Academy of Social Sciences' Institute of Archaeology.
The site was constructed carefully between 17th and 19th centuries with many materials and structures. The 130-km-long bastion stretches for 111km in Quang Ngai province.
The rampart covers nine districts, Tra Bong, Son Tinh, Son Ha, Tu Nghia, Minh Long, Nghia Hanh, Ba To and Duc Pho, and to Binh Dinh Province's Hoai Nhon and An Lao districts.
The wall is built with alternating sections of stone and earth, with some sections reaching a height of up to 4m.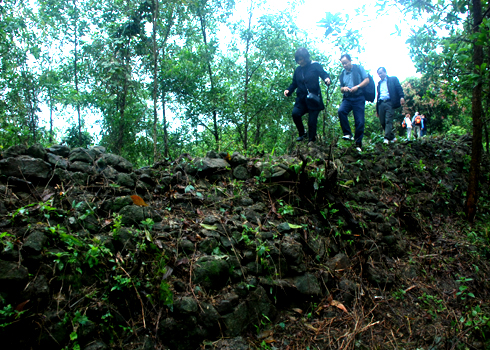 According to Prof. Phan Huy Le, president of the Vietnam Association of Historians, this is the longest monument in Southeast Asia.
In 2009, scientists from the Ha Noi branch Ecole Francaise d'Extreme-Orient (French School of Asian Studies) began to unearth the wall's section in Nghia Hanh District. Last year, the archaeological study was conducted in Hanh Dung Commune.
Archaeologists said that this was an important historic site. Besides the military purpose, the wall was used as a trading checkpoint between mountainous and delta regions.
The wall was the greatest engineering feat of the Nguyen dynasty. Construction of the military site started in 1819 under the direction of Le Van Duyet, a high-ranking mandarin serving Emperor Gia Long.
Early this year, the province submitted an application to recognize the site as one of National Heritage and turn the wall into an international tourist attraction. If approved, later the authorities will apply for UNESCO's world cultural heritage recognition.
At a workshop on March 27, Dr. Andrew Hardy, chief representative of the French School of the Far East's Hanoi branch emphasized: "Truong Luy is the evidence of goods transaction between the people in the lowland and upperland".
French Ambassador to Vietnam Jean Francois Girault said: "In the world, there are walls to separate communities but the Truong Luy Wall in Quang Ngai gives us a new look about the mutual-assistance of difference communities".
PV