VietNamNet Bridge – The Ministry of Culture, Sport and Tourism has proposed to the government a new decree under which scantily-clad stage entertainers could be banned from performance for a period of between three and six months.
Model, singer fined for smoking and scanty clothes
Culture Ministry tightens rules after supermodel smokes on the catwalk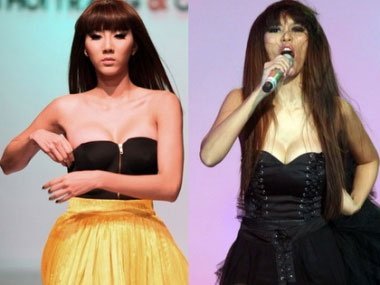 Models Ha Anh (R) and Ngoc Quyen were mentioned at the conference on May 18 that focused on violations in dressing etiquette. (Photo: Tuoi Tre)
According to the proposed decree, besides receiving monetary fines, artists who violate in performing costumes will not be allowed to perform overseas as well.
Last week, there was a public outcry over the penalty against local pop singer Thu Minh, who wore revealing clothes criticized by the public as being offensive at a music show titled " Ngan Sao Hoi Tu" (The Convergence of a Thousand Stars) in HCMC on April 20.
The fine was considered just a light slap on the wrist that serves as a poor deterrent compared with the fame the singer attracted after the scandal.
Pham Xuan Phuc, deputy chief inspector of the ministry, said that the penalty should include both fines and bans, like in football.
"It's not right to issue fines to singers only, the show's organizer is the one who should be fined," Le Ngoc Cuong, former director of the Performing Arts Department added.
Also, he mentioned that competent authorities must be stricter in censorship. "Authorities need to stop winking at violating shows. It's unacceptable if you receive money from show organizers then allow decency-flouting incidents to take place."
Vo Trong Nam, director of the HCMC Culture, Sport and Tourism Department informed that the department handled 11 cases of decency violation within the first 5 months of this year, three cases more than the total number recorded last year.
Violators be made to do community service?
Though violating models including Ha Anh, Bebe Pham, Ngoc Quyen and singers Minh Hang and Thu Minh were invited to the conference on May 18 that focused on violations in dressing etiquette, they were not present.
Singer Thanh Thuy from the Military Zone 7 art troupe said it's time to have detailed regulations on performing costumes.
"Artists who regularly wear ao dai (Vietnam's traditional long gown) cannot be hotter than those who wear just a little or nothing," she complained.
In addition, musician The Hien suggested a stricter penalty for decency flouters. "Artists who like revealing their bodies must do community service!" he opined.
VietNamNet/Tuoi Tre