Exhibitions mark President Ho Chi Minh's birthday
Two exhibitions themed 'President Ho Chi Minh on Party building and rectification' opened at Ho Chi Minh Museums in Hanoi and Gia Lai province on May 15 to celebrate the 122nd anniversary of President Ho Chi Minh's birth.
More than 200 documents, artifacts and films related to President Ho Chi Minh's life are showcased at the exhibition in Hanoi.
The event also contributes to the implementation of the Party Central Committee 4th Plenum, 11th tenure Resolution on 'Current Urgent Issues in Party Building".
The exhibition introduces visitors to the great achievements of late President Ho Chi Minh, who was the founder and leader of the Communist Party of Vietnam, as well as his views on Party building and rectification.
In addition, the exhibition showcases Vietnam's achievements in Party building and rectification work to make the Party pure, strong and worthy of being 'a leader and a servant of the people'.
On the same day, the Ho Chi Minh Museum in Gia Lai province also held an exhibition with the same theme, as a part of activities to celebrate the late President's birthday and the 80th anniversary of the establishment of Gia Lai province.
Nearly 150 photos and documents are on display and have been arranged by three main themes, 'President Ho Chi Minh – Founder of Vietnamese Communist Party', 'President Ho Chi Minh and Party Building and Rectification' and 'Vietnamese Communist Party and Gia Lai Provincial Party Committee - Party Building and Rectification in line with Ho Chi Minh's thought'.
The exhibition will also contribute to promoting and encouraging people from all strata to promote Party building work, improve
the leadership capacity of the Party and prevent degradation in the political ideology, ethics and lifestyle of Party members. The exhibition will run until May 25.
Fest for President Ho's birthday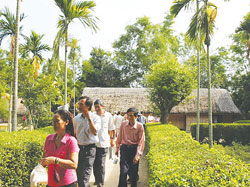 Homecoming: Tourists visit Hoang Tru Village in the central province of Nghe An. The President's hometown receives an estimated 2 million visitors annually. (Photo: VNS)
 A festival will be held in the late President Ho Chi Minh's home village of Sen in Kim Lien Commune in the central province of Nghe An's Nam Dan District from today to Saturday, to celebrate his 122nd birthday.
This year's festival will include an incense-burning ceremony, a ceremony to announce the district's achievements, a singing contest, and traditional music performances.
The festival coincides with President Ho's birthday on May 19 and promotes tourism in Nghe An. The President's hometown receives an estimated 2 million visitors annually. The festival's opening ceremony will be carried live on Viet Nam Television at 8pm tonight.
To mark the President's birthday, the Tay Nguyen (Central Highlands) province of Gia Lai is also holding a photo exhibition entitled President Ho Chi Minh and Party Building, featuring 148 photos and other materials divided into three main topic areas: President Ho Chi Minh – Founder of the Communist Party of Viet Nam; President Ho Chi Minh and Party Building; and efforts of Gia Lai Province's leaders to build the local Party organisation consistent with Ho's teachings.
The exhibition aims to encourage people from all social strata to participate in Party-building work to improve the Party's leadership and prevent moral degradation of each Party member, calling upon them to maintain their role as the vanguard in national reconstruction.
The exhibition will run until next Friday, May 25, at the Ho Chi Minh Museum in Gia Lai Province.
As the birthday approaches, many people also visit the Ho Chi Minh Museum in the central province of Thua Thien-Hue, which has a collection of 1,300 photos and documents on display. Nguyen Sinh Cung, Ho Chi Minh's name at the time, spent much of his youth in Thua Thien-Hue.
Grand concert celebrates late President's birthday
A special concert has been held in Hanoi to celebrate the 122nd birthday of President Ho Chi Minh, known Uncle Ho to Vietnamese people.   
The programme, entitled Offering Uncle Ho a Lotus Sepal, featured outstanding songs and dances inspired by President Ho's moral example during his revolutionary life.
The artists expressed Vietnamese people's love for their beloved President with popular songs such as Nho on Ho Chi Minh (Remember Ho Chi Minh), Bac Ho Mot Tinh Yeu Bao La (Uncle Ho – A boundless love) and Nguoi La Niem Tin Tat Thang (Uncle Ho – Our Belief in Victory).
At the concert, Nguyen The Ky, Deputy Head of the Party Central Committee's Commission for Communication and Education, announced the regulations for a contest to compile literary, artistic and press works with the theme "Studying and Following the Moral Example of President Ho Chi Minh".
First exhibition in Spratly Archipelago encourages soldiers
Images of the main land and family will be sent to soldiers through a photo exhibition organised for the first time in Truong Sa (Spratly Archipelago), the central province of Khanh Hoa.
The exhibition will open tomorrow in Song Tu Tay Island then it will be moved to Truong Sa Lon ( Spratly) and Floating Complex DK 1. After that all entries will be given to the people and soldiers in Spratly Archipelago.
Entitled Letters to Spratly islands from Home, the exhibition helps narrow the distance between the island and the mainland and send love from one to the other.
A group of photojournalists from Vietnam News Agency travelled to five cities and provinces to capture images of soldiers' families in 100 photos to display at the exhibition.
When the soldiers undertake the task of guarding the water and island territory, they are forced to be absent from their homes for many years. "We hope that through the photos, the soldiers will feel they are close to their families," said photographer Bui Hong Thang.
The exhibition also displays 80 photos revealing the country's landscape, custom, culture and contemporary development of the society.
Organised by the Vietnam News Agency and the Naval High Command, the exhibition is aimed to enrich the spiritual life of the soldiers, encourage them in their assignment and affirm the country's sovereignty through a cultural activity.
Yunnan Circus troupe to tour Viet Nam in May
China's 56-year-old Yunnan Circus will tour Viet Nam for about one month beginning on May 26. Audiences will be treated to 23 performances by the acrobatic troupe.
The Viet Nam Circus Federation will add bear, python and monkey acts to the performances.
The federation's deputy director, Pham Van Xuyen, said the tour aimed to boost cultural exchanges between Viet Nam and China as well as entertain children on Children's Day, June 1.
Arts, literature awards ceremony to be held
The ceremony to award Ho Chi Minh Prize and People's Artist winners will be held at the capital's Opera House on Saturday to celebrate the President's 122nd birthday.
This year, 12 outstanding works in the field of arts and literature won HCM Prizes, while 128 won the State's Prize.
Some of those who won the HCM Prize include composers Mai Van Chung and Pham Tuyen, theatre directors Nguyen Dinh Nghi and Duong Duc Ngoc, poets Pham Tien Duat and Nguyen Huu Thinh and writer Ma Van Khang.
Seventy three artists won the "People's Artist" title and 356 got the title for "Meritorious Artist" thanks to their great contributions to the development of the country's culture.
The awarding ceremony for artists who won the State's Prize and the title "Meritorious Artists" will be held next Sunday at the same venue.
Discover the city with Friends of Vietnam
Join Friends of Vietnam Heritage (FVH) for a city walk to discover the Dong Xuan wholesale market on Saturday, May 19. The English-speaking two-hour excursion will start at 9.30pm. Contact Sue at sue.jacka@gmail.com
The FVH will also conduct a Japanese-speaking excursion to Van Mieu (Temple of Literature) at 9.30am on Wednesday, May 23, and a French-speaking visit to Ha Noi's suburban bronze-casting village of Dong Son at 11.30am on Thursday, May 24. To register for the excursions, contact Yoshiko Tomiyama at herijapan@yahoo.co.jp and Nicole at nicole.nicolemaillard@gmail.com, respectively.
FVH is an informal group of Ha Noi residents from many countries working voluntarily to promote and preserve Vietnamese cultural and historical heritage.
Fest presents diversity of European food
EuroCham's greatest social event in 2012 – European Food Festival – will take place on the garden grounds of Viet Nam's National Library, 31 Trang Thi Street on Saturday, May 26.
In addition to a variety of unique European culinary experiences, the event promises to be a fun day out for all family members and friends with exciting games and activities for children as well as live entertainment of en-vogue bands in town.
With the presence of Ha Noi's favourite restaurants and hospitality providers, a broad variety of European dishes and specialities will be available for foodies, such as paella, beef zurichoise with spatzle, Metropole's Chef Pate in Clay Pot, Italian lasagna, spaghetti Bolognese and lots of assorted baguettes and pizzas. In addition, the Hungarian Embassy will join the festival for the first time with free tastings of Hungarian food and sparkling wine.
Tickets are available at EuroCham Ha Noi office, Pane e Vino Restaurant at 3 Nguyen Khac Can Street, or at the gate on the day. Ticket price is VND280,000 including nine coupons for food, beer and drinks of all kinds. Entrance is free for children under 10.
Ball to help fund surgery for poor kids
A charity ball called Passionate Kiss at Moulin Rouge will be held at the Sheraton Saigon Hotel in HCM City on Saturday, June 2, to raise funds for providing disadvantaged children with free surgeries for various ailments including congenital defects.
The annual fund raising event, based on the famous cabaret in Paris as well as an Oscar winning Hollywood musical, will include a luxury banquet, a can can dance performance, a special game called Most Romantic Couple and a lucky draw that offers "fantastic prizes", organisers said in a press release.
The guests will pay US$150 each to attend the event, with a 10 per cent discount offered to those who buy 10 or more tickets. In addition to buying tickets, guests can make additional charitable contributions by buying items auctioned at this event, or register as a silver, golden or platinum sponsor.
Tickets can be booked at (08) 54 11 33 33, ext. 1067, or via email at phung.le@fvhospital.com.
Mozart's Requiem to hit Music Conservatory
The International Choir and Orchestra of HCM City will organise a concert featuring Mozart's Requiem at the city's Music Conservatory on May 25 and 26.
Tickets ranging from VND200,000 to 500,000 are available at the conservatory, and Mekong Merchant at 23 Thao Dien Street in District 2. Tickets can also be booked online at www.hcmcchoir.com.
Proceeds from the event will go to support Poussiers de Vie (Dust of Life) and Loreto Vietnam-Australia Foundation.
Art auction, dinner to raise funds for operations
The Operation Smile charity will host an art auction and gala dinner at the Park Hyatt Hotel Saigon on May 26 to raise funds that will help disadvantaged Vietnamese children born with facial deformities to receive free surgeries.
The event includes a gala dinner, live and silent auctions, raffle prizes, and live music.
Tickets cost VND2.6 million per person.
Tourism and gastronomy fair opens in Thai Nguyen
A tourism and gastronomy fair opened in Thai Nguyen City on Tuesday to promote the local culture and craft village.
The event is part of a programme to celebrate President Ho Chi Minh's 122nd birthday and the 65th anniversary of his visit to Thai Nguyen (known as a revolutionary base) to lead the resistance war against French colonists (May 20, 1947).
For the event, the city restored its market where inhabitants living in revolutionary bases in the province used to shop. The simple stalls being installed under the trees display regional specialities.
Besides the market, the event, which will end next Tuesday, also features 130 stalls presenting traditional products from different parts of the country.
VNN/VOV/VNS/ND