VietNamNet Bridge – Nguyen Hue Flower Street is decorated by hundreds of flowerpots and the animal designation of 2012. This year the street's highlight will be a 26m long, 5.5m tall dragon.
Painter Nguyen Minh Phuong has been the designer of annual Nguyen Hue Flower Street Festival for several years. This year, Phuong designs a giant dragon, the animal of the year in the lunar calendar, made of hyacinth wood, as a highlight of the event. This 12m-long and 5m-high model of a dragon is placed at the beginning of Nguyen Hue Street to welcome visitors, together with five smaller dragons representing the five basic elements of metal, wood, water, fire and earth. The dragon will exhale colorful flowers.
Artisans are sprinting to finish the decorations for the street, which will be open from January 20-26 in District 1 to celebrate the coming Tet holiday.
Titled "Vietnam – My Homeland", the festival will feature traditional Vietnamese cakes for the Tet holiday, including "banh chung," "banh day," and "banh tet," and national costumes like "quai thao" and conical hats, which will be made of thousands of flowers.
Painter Minh Phuong said his team is willing to work overnight to finish the work on time.
Architect Pham Thi Thuy Ai, designer of the Nguyen Hue Flower Street, said that a giant picture titled "Rong Chuc Phuc" (Blessing Dragon), made of around 500 vases of daisies and gerbera flowers together with 5000 lanterns with the wish of a peaceful new year, will be displayed at the end of the street.
More than 300,000 vases of flowers will also be put along the street for spectators to enjoy.
Tran Hung Viet, general director of Saigontourist, the organizer of the festival, said the festival aims to showcase the beauty of Vietnam's mainland and islands. "Images of the sea and islands will be featured at the festival in the form beaches, coconut trees and marine animal models made of flowers," he said. "The light effect will also promise to bring visitors a gorgeous festival."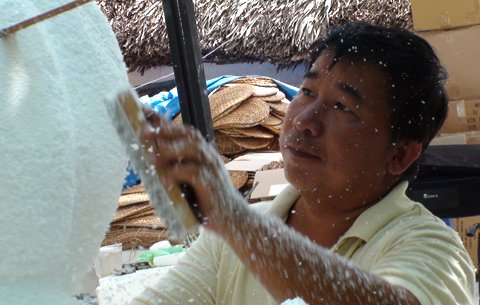 Dragons are an imaginary animal so the painter has to design the giant dragon based on folk dragons.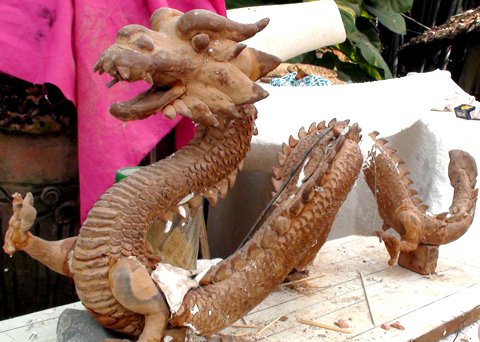 The dragon is made by sponge and dried water hyacinth.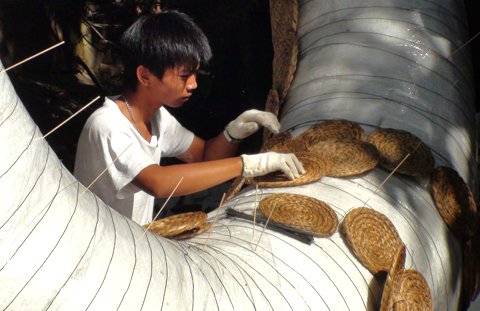 3,000 pieces of dried water hyacinth with 20cm diameter and 120 other pieces of 1m
 long are used to cover the dragon's stomach, while 300kg of dried water hyacinth fiber
 are used to make its head, claws and tail.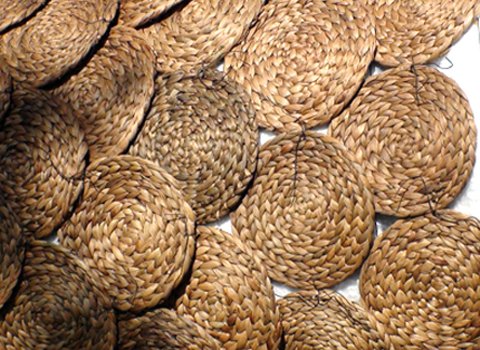 Craftsmen are sticking scales on the dragon. Phuong said that dried water hyacinth is
chosen as major material because it is close to Vietnamese, light and cheap.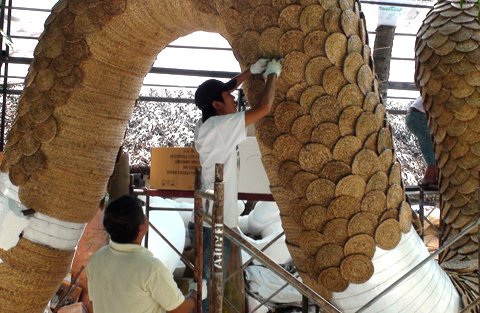 Eight craftsmen work very hard to timely complete the dragon before January 10.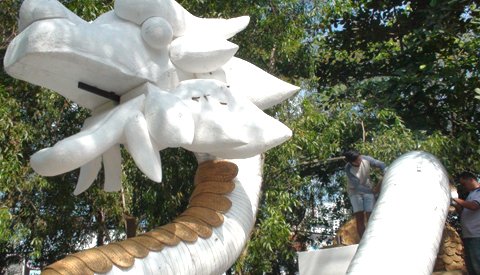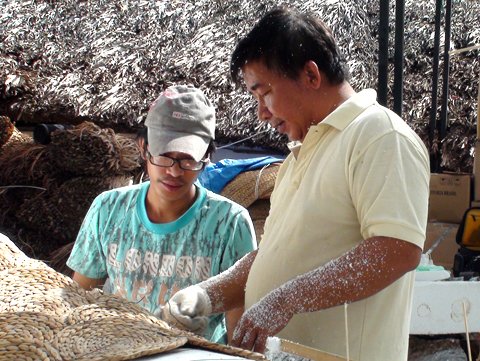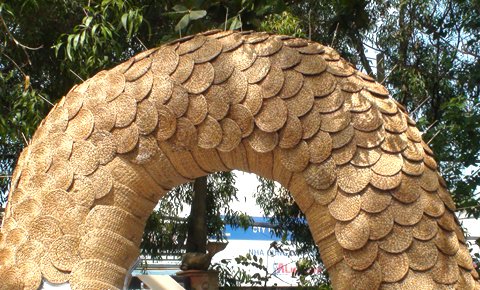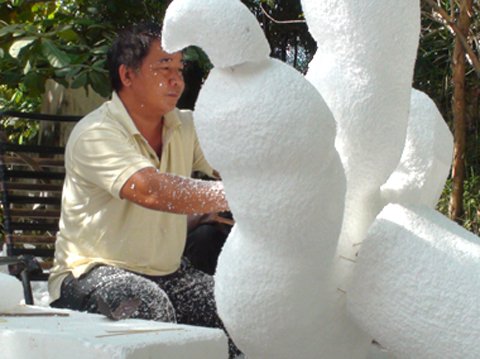 Phuong is working on claws. All details are made manually.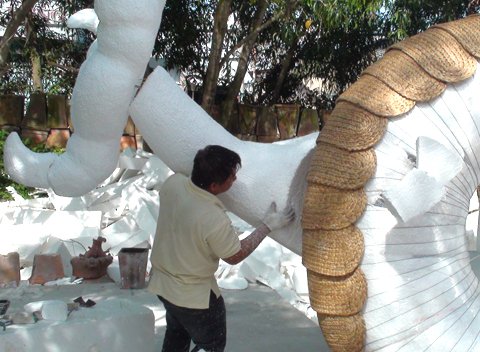 Sticking the dragon leg.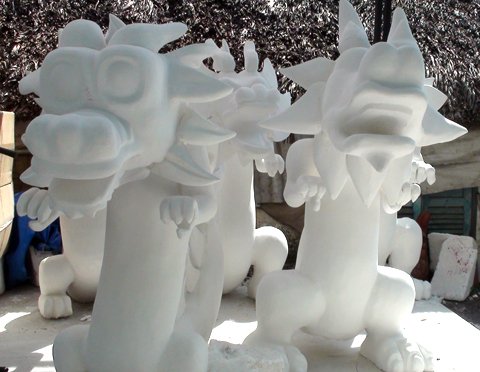 Phuong also designs five small dragons to symbolize the five basic elements.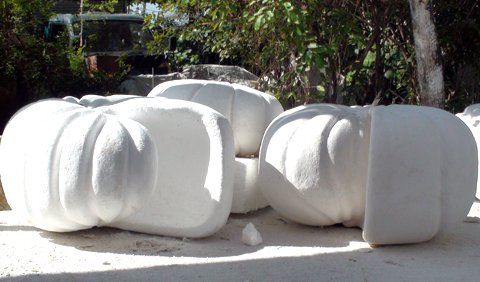 The road is also decorated by pumpkins.