VietNamNet Bridge – 1,600 students from the HCM City University of Economics on September 15 made Guinness World Record with a 660sq.m mind map puzzle in HCM City.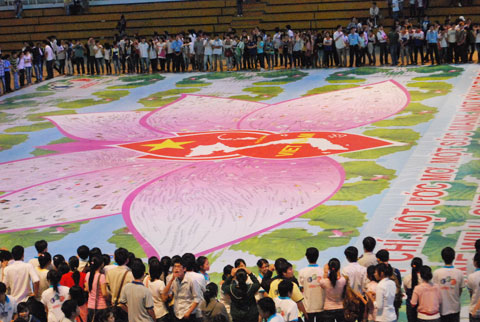 Students meet at the Phu Tho Indoor Stadium to put together 531,232 puzzle pieces for the mind map, which was shaped like a lotus, which is called "Vietnam's mind map". In 2010, China won a Guinness World Record for a 600 square-meter mind map. Earlier, Singapore won a record for a mind map with the highest puzzle pieces – 212,323 pieces – in 2002.
The mind map was created within 17 hours, from 7.30am to 12.26 pm. Each lotus petal symbolizes Vietnamese people, geography, culture, history, education and economics. The HCM City students plan to use the six petals of the lotus-shaped map to introduce Vietnamese country and people to the world. The map is displayed in English, costs VND500 million ($25,000).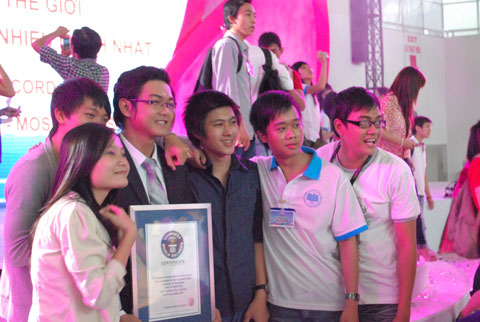 The program aims to mark the 35th anniversary of the university, to promote Vietnam's image in general and Vietnamese students to international friends and to encourage students nationwide to apply the mind map format to studying and working.
The mind map making program is organized by UEH and CYM Group with the sponsorship of Dai Dong Tien Corp.
Mind map is an effective tool created and developed by Professor Tony Buzan for over 30 years. The magic of this tool is, with just a few lines, some colors, papers, and a little imagination, we can draw the whole of our thinking, so we can analyze and arrange it systematically, coherently and clearly. Nowadays, mind map is used widely: from housewives scheduling everything they want to buy at the supermarket to the young student summarizing their lessons or the scientists planning a new project.
PV