VietNamNet Bridge – Living in Viet Nam is something Dale Gerstenslager, an American from Ohio, never thought he would do.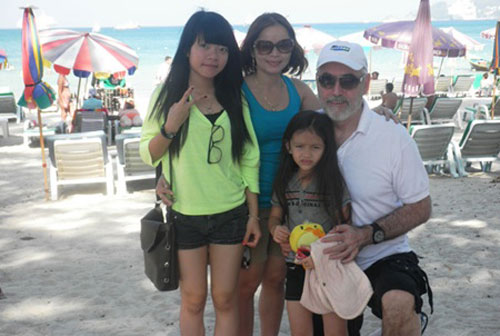 Family time: Dale Gerstenslager and his family pose for a photo. He found out that the Vietnamese people to be very friendly and anxious to learn about the world they live in. — Photo courtesy of Dale Gerstenslager
But for Dale, who is working for a Korean company in the central Quang Ngai Province, everything changed when he met his Vietnamese wife in HCM City eight years ago.
He'd come to the country on what he described as "a bit of a lark": a friend from Australia was coming to visit and he had just finished a contract in Malaysia, so he agreed to join his friend on a tour of Viet Nam. He intended to stay for four to six weeks and then head back home to find a job. But circumstances turned out very differently than he expected.
"I remember my first day in HCM City. I hit the streets and started to walk. The sea of motorbikes made it seem impossible to cross the street and, as a newbie, I was sure any attempt would be suicidal. The street reminded me of a river, except that the water was an endless stream of motorbikes that took on fluidity as they snaked down the road, sidewalks or any other space that was occupied," he recalled.
At that fateful moment, he made a decision that would change the course of his life forever. Blame it on the caffeine...
"I decided to have a cup of Joe and wait for the street to clear. When I sat down in the cafe, a lovely lady came over to take my order. She had this mysterious presence that was haunting and intriguing. She seemed to be seeing everything but looking at nothing. Her large beautiful eyes stoically scanned all, but never made eye contact. The traffic cleared and I made it back in time for dinner, but over the next few weeks I made regular visits to the coffee shop which I later found was a family business of the mysterious Asian beauty I had met on that first adventure in Viet Nam."
After many failed attempts he was finally able to convince her to tell him her name, which is Quyen, and sit down to talk.
They ate dinner together and became increasingly friendly as the weeks passed.
"I began to get offers of jobs between tours and visits around the country. I handled a job in Quang Ngai Province. Needless to say, the original plan for a six-week visit turned into six years and the mysterious Asian beauty became my wife," he said.
The couple has two children now, daughter Maxx and step-daughter Nga, and the American has adapted completely to Vietnamese life. One of his favourite things about the country is the food. Grilled red snapper was his first taste of Vietnamese food when he set foot in HCM City, and he still can't get enough of it when he returns to the south.
"A street cafe outside Binh Thanh Market in HCM City grills red snapper covered with salt and chilli which as they say is 'to die for'. We go there every time when we go to HCM City," he said.
"However, my favourite is banana flower salad and I love a good bowl of pho ga or noodle soup with chicken. As a family we like to barbecue and meet with friends, talk, plan, scheme and dream over a couple of beers or at some of the new restaurants that are popping up all over Da Nang. Another favourite thing is to have dinner on the beach and then take a stroll by the ocean in the evening."
Ultimately, the American enjoys life in Viet Nam. He finds the Vietnamese people very "friendly" and anxious to learn about the world they live in.
"As an emerging country, the people are very open and ready for change," Dale observed.
Source: VNS