VietNamNet Bridge – Ambitious Ha Noi mixologists have created a stir by utilising long-forgotten local ingredients to create unique and marketable flavours. Elisabeth Rosen raises a glass to their success.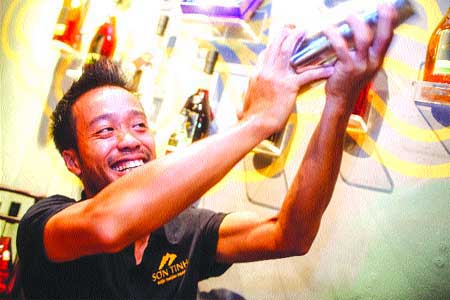 Mixing it up: A bartender at Son Tinh LoungeBar shakes up a specialty. — Photo Aidan Dockery
Most cocktail menus in Ha Noi still trumpet imported ingredients. But an increasing number of mixologists are starting to note the value of local produce. Here are three venues that spotlight Vietnamese flavours:
The Rooftop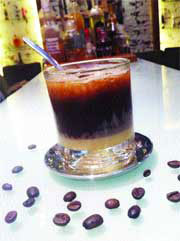 Caffeine kick: Turkish Nau Da features rice wine infused with Vietnamese coffee and tea-smoked cardamom bitters. — Photo Daluva
When it comes to Da Lat wine, the word elegant doesn't leap to mind. But in the Tiamo, one of 10 drinks on The Rooftop's new cocktail menu, a Da Lat Cabernet joins 23-year aged rum, blueberry jam from Lam Dong Province and Yen Bai cinnamon to create an intoxicating meld of spice and sweetness.
Alcohol isn't the focus here. Rather, the ambitious cocktails aim to change the way people view local produce.
"I want to make real cocktails using Vietnamese ingredients," says bartender Nguyen Hoang Duc, who composed the new menu.
Don't confuse his Ambarella Martini with Rihanna's favourite rainy-day accessory. Instead, it's a star vehicle for coc fruit, the slightly sour green fruit that resembles a guava (the English name is ambarella). Chili-flavored salt lines the edge of the glass, a whimsical nod to the dip that traditionally accompanies the sliced fruit.
"When Viet Nam has fresh ingredients, I use them in a drink," Duc says. In the summer, that means raspberries; in autumn, it translates to cinnamon and star anise. Winter cocktails are infused with lemongrass and ginger.
The Rooftop Special, which won the Viet Nam division of the Bacardi Legacy Cocktail Competition last year, epitomises these ambitions. Garnished with a slice of green apple with a star cut out of the centre - an unmistakable reference to the country's flag - the cocktail makes an impassioned case for putting Viet Nam on the map.
Daluva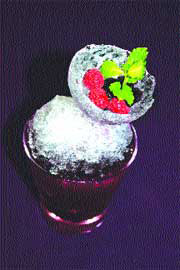 Chin-chin: The Tiamo makes surprisingly good use of Da Lat wine. Photo The Rooftop
With a thick layer of condensed milk, ice and a miniature spoon, Daluva's Turkish Nau Da looks like an innocuous afternoon pick-me-up. Take a sip, however, and you'll realise it's far more than your average brew.
"It's what happens when a Turk and a Vietnamese walk into a bar," jokes Israeli chef Shahar Lubin, the mastermind behind the complex combination of Vietnamese coffee-infused rice wine and Turkish-inspired tea-smoked cardamom bitters.
Lubin might seem like an unlikely ambassador for Vietnamese ingredients. But incorporating local produce is an integral part of his culinary philosophy.
"Wherever I am, I try to celebrate the local bounty," Lubin says. "And by discovering new ingredients, I can be more creative."
To accompany his tapas-style seasonal tasting menu, Lubin turns out innovative drinks like the Aviator, a quirky take on a 1920's cocktail that replaces obscure maraschino liqueur with Vietnamese candied lemons macerated in brandy. In the Fish Sauce Martini, Viet Nam's signature condiment leaps off the plate and into the martini glass. Just as in dipping sauce, the vodka-based cocktail uses basil and lime to balance the sweet-sour nuoc mam.
"The trick is to separate an ingredient from its perceived culinary role and to try and think what the ingredient really tastes like," the chef explains.
Son Tinh LoungeBar
Where to enjoy capital cocktails
The Rooftop
83 Ly Thuong Kiet
04 3946 1901
Daluva
33 To Ngoc Van
04 3718 5831
Son Tinh LoungeBar
31 Xuan Dieu
04 3718 6377
Fish sauce also makes an appearance in the Ha Noi Heat, one of 12 new "essence of Viet Nam" cocktails that Son Tinh Lounge Bar is rolling out this winter. This Vietnamese spin on the Bloody Mary features tomato juice, lime juice and a grind of Phu Quoc black pepper as well as the unmistakable nuoc mam.
"We wanted to bring classic cocktails in line with Vietnamese flavours, so we replaced everything possible with local ingredients," explains Dan Dockery, who opened Son Tinh in 2010.
In a country that produces a wealth of tropical fruit, it's surprising that mixologists haven't caught on sooner to the potential of fresh mango and watermelon. The pineapple flavour in Son Tinh's Paradise Punch comes from ripe pineapples, rather than canned juice.
"Viet Nam is one of the top 10 pineapple producers in the world," Dockery says.
The new cocktails will be released over a period of several months, allowing for seasonal variations. In November, visitors to Son Tinh can taste the Paradise Punch and the Bitter Sweet Salute, a twist on the classic Negroni in which two varieties of Son Tinh's ruou - the only Vietnamese liquor to win awards overseas - replace the traditional gin and Campari.
"We want to show that our liquors deserve to sit on the shelf with recognised brands," the restaurateur says.
"Viet Nam has a lot of products with massive potential on the international stage."
Source: VNS