VietNamNet Bridge – General Vo Nguyen Giap, the legendary war hero of Viet Nam and also famously referred in the West as the "Red Napoleon" passed away on October 4, 2013 in a military hospital in Ha Noi. General Giap in terms of legendary notability stands next to the equally legendary Founding Father of Viet Nam–President Ho Chi Minh.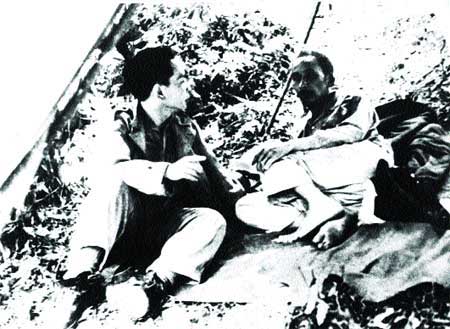 National heroes: President Ho Chi Minh and General Vo Nguyen Giap (left) taking a rest on their way to the border campaign in 1950. — File Photos
General Giap was the architect of Viet Nam's classic military against France at Dien Bien Phu (1954) and against the United States' military intervention in Viet Nam (1975).
General Giap's legendary military victories arose from his sharp grasp of military matters and military strategy without the benefit of any formal and advanced military training. And therein lies his legendary military fame.
General Giap's famous military victories against the French and United States armies stand now being honoured as "classic military victories" worthy of being studied in war colleges of the world. Back in 1971 when I was attending the Royal British Army Staff College at Camberley in the United Kingdom, I can recall a two-day event devoted to study of the Battle of Dien Bien Phu and the military lessons that flowed from it.
Starting from his military successes against the Japanese occupation of then French Indochina in early 1940s, the ousting of French colonial rule in the French Indochina War (1946-1954), the US Viet Nam War (1964-1975) in which under his leadership the US had to make a military exit from Viet Nam, General Giap rounded his legendary military career by being instrumental in advising the Viet Nam People's Army in repelling the Chinese attack on Viet Nam in 1979. I believe that this military record is unsurpassable.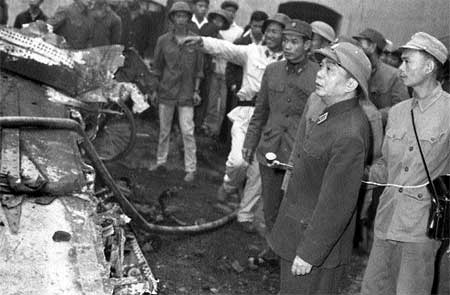 Aftermath: General Vo Nguyen Giap (first right) inspecting a shot-down B52 bomber in Ha Noi's Ngoc Ha Street during his visit to Battalion 79 in December 1972.
Seldom in military history has a military leader who achieved a string of legendary military victories against the leading armies of major military powers and that to having achieved these victories with rudimentary instruments of war.
With his sad demise, General Giap passes into the legends of history and marks the end of an era in Viet Nam. General Giap epitomised the tremendous patriotism of the Vietnamese people, their immense national pride and their sensitivity to national honour and above all their steely determination to confront aggression and onslaughts on their sovereignty.
In this hour of Viet Nam's national grief, I offer my personal condolences and salute the memory of this legendary War Hero of many victories that Viet Nam snatched from major powers of the day.
by Dr Subhash Kapila*, India
•    Dr Subhash Kapila is a graduate of the Royal British Army Staff College, with a Masters in Defence Science (Madras University) and a PhD in Strategic Studies (Allahabad University). He had a rich experience of Army (Brigadier) and diplomatic assignments in major countries. He writes extensively on foreign policy issues and strategic affairs for think-tanks and professional journals. He has participated in many national seminars and interviews by CNN, BBC, etc. He is also the author of a book India's Defence Policies and Strategic Thought: A Comparative Analysis.
Source: VNS