VietNamNet Bridge – As the scorching months of summer slid by, sticky and humid in the Center of Vietnam, I looked forward to cooler temperatures and the relief of the monsoon rains.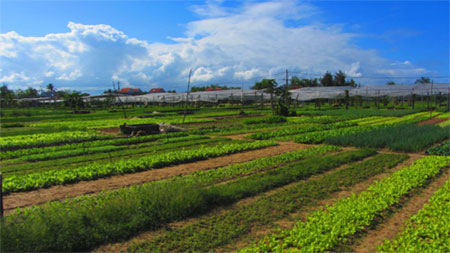 Tra Que Herb Village soaking in the sunshine.

A few months of indoor living, poncho motorbikes, damp clothes and sheets would do everyone good I figured- and by the time the heat rolled around again we'd all be ready for it. As October rolled in, so did the rain. But then something strange happened - it rolled back out as quick as it came. A few days turned weeks of beautiful weather, and all the people who were dreading the rainy season rejoiced in the continuous beach weather, warm sun and ability to dry washing in a day instead of a week.

But as the months passed by, October turned November, November December and the rains never came. I'd been cynically looking forward to some sort of intuitive months of antisocial living trapped indoors by the waterfalls outside- but if you looked out the window on any given day in Danang and Hoi An, the only thing you'd see was the sun.

While some people continued the sun dance, others looked towards the future and dreaded what the next summer might bring.

Extended expats recalled the past 4-8 years of weather and claimed that this endless summer had never been experience before, at least as far as they could recall. Some claimed it was an 8 year pattern of weather while others say their beach prayers were being answered as they soaked in the December UV rays.


An Bang Beach in the middle of the winter.

Tourists expecting soaking conditions certainly rejoiced in their good luck in visiting Vietnam's Center during this 'rainy' season- and they enjoyed all the perks of the high season (weather) with the perks of the low season (cheap rates and less crowds). As for me, I'm still trying to figure out whether it's time to plant the garden yet, or if all my seedlings will be washed away by the monsoons that are still waiting to unleash on the midsection of Vietnam's coastline.

On one hand we are all enjoying the amazing Central Coast beaches, soaking in the rays instead of mopping up the soaked floors, but on the other hand we dread the worst to come. Hydroelectric dams powering our fridges, fans and A/C's during the 40 degree nights aren't going to run too well when they have no water to power them. Nightmares of rolling power cuts and extended outages may be a reality, but only time will tell. So though we are thankful for the beautiful weather that we have experienced this 'rainy season'- bring on the rains, at least for a few weeks, no?

Short Summary:

As January rolls into Central Vietnam, locals and expats alike enjoy the absence of this years rainy season- but wonder what it will bring in the months to come.

By Daniel Robbins

Source: VOV