VietNamNet Bridge – For Will Frith, born in the US to an American father and Vietnamese mother, a visit to Vietnam in 2004 ignited a passion for coffee that would change his life.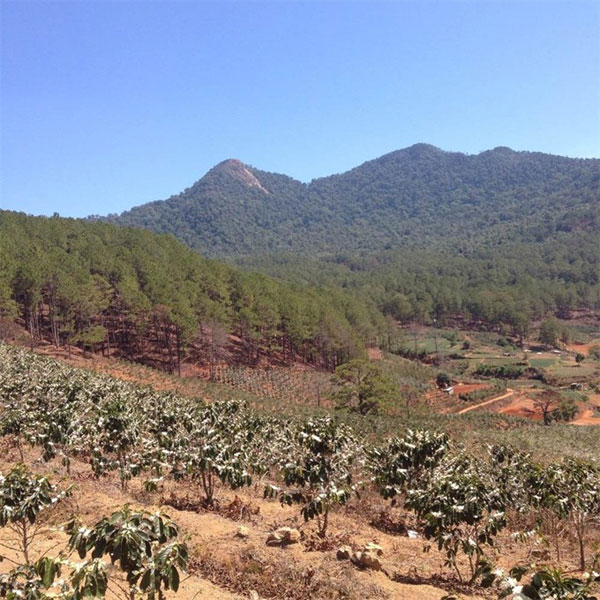 At the source: Coffee plants in bloom in Lang Biang mountain, Da Lat City, home to most of the Arabica coffee in Vietnam.
His mission on that first trip was to see his grandmother. But along the way, he had the chance to experience the Vietnamese coffee culture: "sitting in the small plastic stool, watching the world go by while slowly sipping the ca phe da (iced coffee)," he recalls. He describes the now-familiar flavour as "nutty chocolate and caramel ice cream with a bitter aftertaste".
"Everything I heard, smelled, saw, and tasted was familiar thanks to my early exposure to the sounds of the language, the food and customs. I couldn't quite understand why it was so familiar, but it felt something like 'home'," said Frith.
The passion for Vietnamese coffee, combined with his experiences working as a roaster in Washington after graduating from college, led Frith to a career in coffee consultation. While working in the states, he maintained his interest in his mother's country and its coffee.
"What keeps me engaged in the country [Vietnam] is its potential for producing great coffee and a fascinating coffee culture that is growing quickly," said Frith.
In 2013 he moved to HCM City on a mission to find high quality arabica in Da Lat.
With strong coffee-drinking culture and more specialty cafes opening, Vietnam can be "one of few places that grows, processes, and consumes specialty coffee within its own borders - a sustainable, virtuous loop", Frith says. He sees high potential for the country's growth, predicting that the Da Lat region could become a reputable producer of medium- and high-quality Arabica internationally.
 "Most coffee-growing countries export their best products to the US or Europe for consumption, but if someone wants to taste the best Vietnamese Arabica they would have to visit Vietnam," said Frith.
Da Lat's flavourful Arabica
Over the past few years, Frith has worked with specialty cafes and organisations in Vietnam like Là Việt Coffee in Da Lat, a family business that produces, roasts and serves their own beans; The Workshop in HCM City, touting itself as Vietnam's first specialty coffee bar; Mach Coffee, a luxury roasting house in Phan Rang since the 1940s; and Filanthrope, a non profit charity that supports indigenous tribal coffee farmers.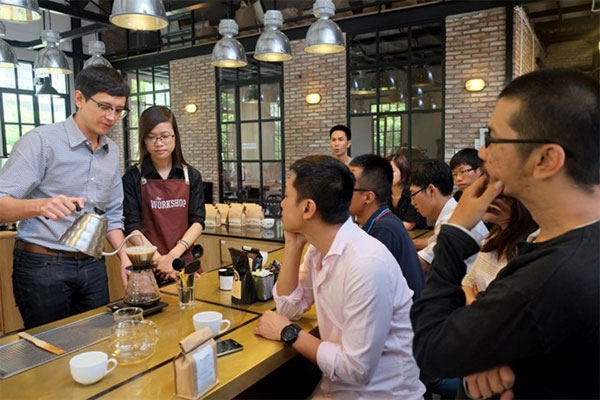 Coffee master: Will Frith (front left) focused mostly on roaster and barista training, branding, quality control and product development. — Photos courtesy of Will Frith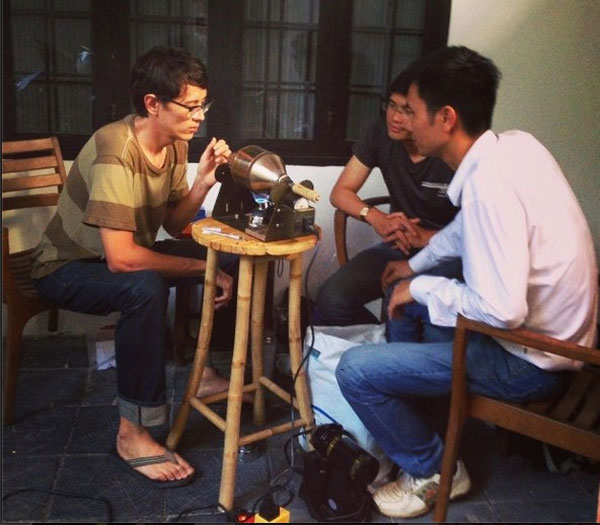 Moving on up: Frith (left) has became part of a small and young community of producers, processors, green coffee buyers and roasters who are trying to "make Vietnamese coffee something legit and worthy of attention".
Frith focused mostly on roaster training, barista training, branding, quality control and product development.
Tran Nhat Quang, owner of Là Việt Coffee, met Frith at the Coffee Festival in Buon Me Thuot City in Dak Lak Province in 2013.
With a shared passion for coffee, Quang and Frith became close friends quickly.
"We talked passionately about the potential of Arabica coffee in Vietnam. In late 2013 when I opened Là Việt café, he came to help me with staff training and roasting training as well as quality control and to connect me with the international partners," said Quang. "Frith is very knowledgeable about Vietnamese coffee. He and I share the aspiration to bring high quality Vietnamese coffee to the world."
Frith has became part of a small, young community of producers, processors, green coffee buyers and roasters who are trying to "make Vietnamese coffee something legit and worthy of attention".
"I consider the work I do with small farmers as my ongoing education—we learn from each other. I am a proponent of Vietnamese specialty coffee, trying to connect as many people to Vietnam as I can with the hope of increasing the amount of high quality Arabica that Vietnam produces," said Frith.
Arabica was introduced to Vietnam in 1850s and Da Lat is an ideal place for growing the bean. The right growing practices and processing methods will increase the country's Arabica quality, said Frith.
"There needs to be a lot of hard work to make it [Arabica] high quality."
Arabica coffee has very complex flavor potential, affected by many factors. It can be "delicate, floral and tea-like, or nutty and sweet, or rich and fruity".
The flavours can be affected by a number of factors: soil health and content, arabica type and seed selection, weather patterns, elevation, angle of the sun, surrounding forests or farms, shade, farm management, selective harvesting, clean and careful processing, storage and transport and roasting and brewing, according to Frith.
"Coffee evolved in the understories of Ethiopian forests, so it follows that some of the best coffees come from farms that resemble those forests, with healthy, fertile soil and shade trees, plenty of beneficial microbes and fungi, and animals that all work together to create a healthy ecosystem," Frith added.
"People must be patient, with the ability to take some risks, because it's a slow process requiring a long-term approach. They must have a good attitude, and be willing to collaborate with others—even their competitors. We all need to work together to grow the high-quality segment of the coffee industry. No single entity can do it alone," said Frith.
Vietnam has been the world's second largest coffee producer and exporter since the early 2000s. The Central Highlands region contributes to 90 per cent of the country's total coffee production. 
Frith has now been working for Modbar, a coffee equipment manufacturer in the US, for three years. He still provides consultancy for Vietnam coffee growers and coffeehouses, traveling back and forth between Vietnam and the US.
 "With each visit, my love for Vietnam grows and becomes more complex. It's no longer as simple as saying 'I love Vietnam' or 'I dislike Vietnam' because there's so much diversity of experience and attitudes," said Frith. 
by Hong Van
Source: VNS