VietNamNet Bridge – Belgo-French duo Bernard Seys and Lous Adrien Fabre have initiated an idea to bring bespoke products by Vietnamese artisans directly to customers all over the world via their newly-launched marketplace Efaisto.com.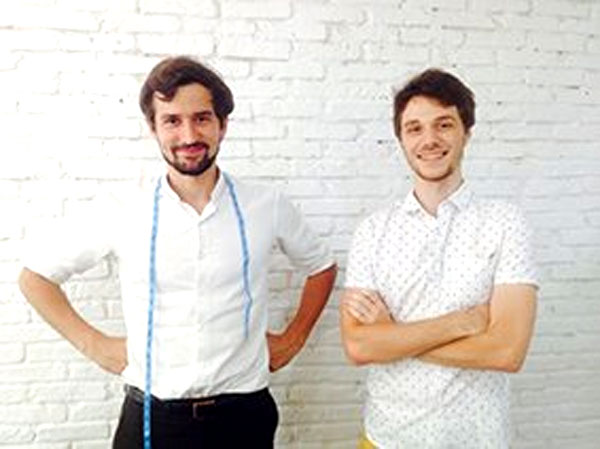 The Belgo-French co-founders of Efaisto.com, Bernard Seys and Lou Adrien Fabre – Photo: courtesy of Efaisto
Coming from different fields of business, the co-founders of Efaisto have the same passion to promote Vietnam where they have been living for three years. Bernard Seys worked on several M&A projects in Vietnam for a large chocolate manufacturer from his home country while Lou-Adrien Fabre, a software engineer, develops wesbites, games and apps.
The duo said their story began with a splendid white dress shirt made by a smiley tailor in an alley of HCMC. Beyond the singular experience of wearing bespoke clothes for the first time, it is the direct purchase from its maker that was the trigger.
"We have a crush for Vietnam and its fascinating traits. Like many other foreigners living here, we developed a passion for handmade products as our whole wardrobe was being tailor-made by the best artisans in Saigon," Bernard Seys, CEO of Efaisto, told the Daily via email.
He commented that Vietnam is one of the few countries in Asia with a vibrant craftsmen culture. "Many people here have skills and passion to run a successful tailoring or other crafting business. They just lack the connections to sell their work abroad. That's where we can help," he added.
Efaisto, which means the Greek god of makers, aims to change the way people shop. The duo's ambition is no less than inverting the current trend in fashion that gives the workers only a fraction of the price people pay for their products.
After five months of test, they released their e-commerce marketplace for custom-made clothes and handmade accessories in Southeast Asia and to directly connect the consumer and the maker at a launch at Saigon Outcast in HCMC's District 2 last week.
As the sole vendors on efaisto.com, makers are in full control of their pricing. They receive up to 85% of what the customer pays, net of all fees. "We want to change the perception of Vietnam solely as mass producer of garments and footwear that it sometimes may have abroad. We promote the skills of Vietnamese craftsmen to the world, and we make sure they are the ones to benefit from it," Seys added.
According to him, an average garment worker is paid 0.2 euro for a branded shirt that costs 50 euros in a shop. Efaisto will invert the proportions and the maker keeps up to 85% of what people pay, net of all fees.
As each item is made on demand, the maker does not have large production batches, minimum order quantities to follow. By essence, each bespoke product has to be cut, sewn, dyed, engraved, polished or coated individually by human hands, which results in a drastic reduction of waste or unsold products and an increased average lifetime of the product.
Being asked how to choose artisans to join Efaisto, Seys said that they are getting on board tailors, leather makers and shoe makers with excellent track record in terms of customer satisfaction, and strong motivation to expand their business. Once the maker has passed the product quality check and the profile screenings, they are qualified to sell on the website. The whole process can take as little as a few hours if all lights are green or up to several days when there is more work to be carried out.
Efaisto currently works with 40 tailors, leather accessories and shoe makers who are mainly based in HCMC, including Chuong Tailor, Duc Tan Tailor, DA Handmade and ML Leather, among others. Looking back at 12 months of difficulties to work things out, the duo feel thankful to be guided by a clear vision and supported by the best artisans from Vietnam to sell their quality custom-made products abroad and to gain much attention from friends and strangers alike.
Seys told the Daily that his plan after the launch of Efaisto is to expand the product range from its current offers of shirts, shoes, bags and wallets and the number of makers as well. "This phase will involve other cities in Vietnam as we all know there are several hotspots for custom-made garments and accessories in the country."
Makers who wish to join the marketplace and customers who love bespoke products should make a visit to www.efaisto.com or via Facebook page of Efaisto.
SGT