VietNamNet Bridge – French Ambassador to Viet Nam Jean-Noel Poirier has had a "magical connection" with the S-shaped country since he was young.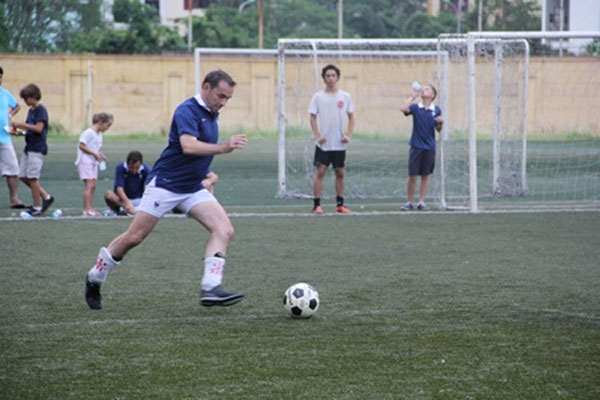 Keeping fit: French Ambassador Jean-Noel Poirier is also a member of a football team consisting of both expats and Vietnamese.
The then young diplomat decided to learn the Vietnamese language because he thought someday he would set foot on the small and resilient country. From 1986 to 1988, he studied the language at University Paris 7, where he also learnt more about the country through his Ha Noi-born teachers.
"I always told my teachers that I want to go to Viet Nam and the advice I got from them was 'don't go there in the winter time because Ha Noi is very, very cold. So, in my imagination, Ha Noi is almost an icy place," the ambassador said in fluent Vietnamese – with a smile.
However, when he first came to Viet Nam at the end of 1989 for a negotiation of Cambodia-related issues, his impression about Ha Noi was different from his imagination. Ha Noi at that time was a dark and very quiet place as "there were almost no cars, and no lights on the street, and there was only one small neon light in our guest house's room," he recalled.
"All the shelves in the then Trang Tien General Department [now is Trang Tien Plaza Shopping Centre] were completely empty. The area was quite deserted."
Despite the humble appearance, the city with mossy houses and old French-style villas also bears a hidden charm that urged the young diplomat to discover it.
During that trip, he also had a chance to meet the famous diplomat and then Foreign Minister Nguyen Co Thach as well as General Vo Nguyen Giap, who he both admired for their intelligence and great talent.
After coming back to France after the impressive trip, the diplomat felt his connection with Viet Nam tightened.
That connection actually began many years ago.
"My grandmother was born in Viet Nam, while my grandfather worked for a marine high commissioner, travelling frequently between France and Asian countries, including Viet Nam. His small house in Brittany was adorned with many souvenir items that he brought from his trips to Viet Nam, including wooden panels and ceramic objects with a blue dragon pattern," the ambassador revealed.
Poirier's childhood was enriched with stories about Sai Gon told by his grandfather.
Married Vietnamese
When he grew up, he got really involved with Viet Nam by marrying a woman who was three-quarters Vietnamese.
In 2000, Poirier came back to Viet Nam for his term as French Consulate General in HCM City, where he continued pursuing his Vietnamese language study at the University of Social Science and Humanities.
After spending more than four years living and working in the country's biggest city, he had more chances to understand Vietnamese people, whose good characters impressed him deeply.
"Vietnamese people are very hardworking people and they value knowledge, which is the fundamental element of a culture," Poirier said.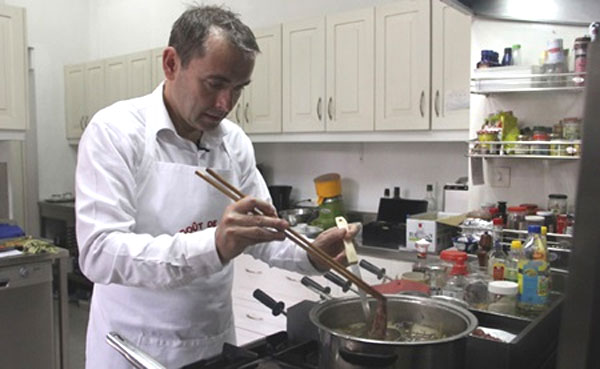 Good in the kitchen: Cooking is another of the diplomat's hobbies. He regards gastronomy as an important method to link people with each other. — File Photos
"While in many Western countries, people tend to focus too much on young people, in Viet Nam, elders are given high respect because they are considered the carriers of tradition, knowledge, and wisdom. This is admirable."
The French diplomat also has been amazed with the flexibility of Vietnamese people in every situation.
"In many cases, the situation seems to be in a cul-de-sac, but, amazingly, Vietnamese people still find a way to solve the problem. I really admire this ability. They are flexible, but within a scope," he said.
Vietnamese characteristics have also influenced the diplomat.
"Having chances to work with Vietnamese people, I've learnt their patience and calmness and applied those characters both into my work and my private life."
Twelve years after his first working term in HCM City, Poirier started his term as French Ambassador to Viet Nam in 2012.
Alongside tonnes of work that he has to deal with every day, the diplomat sometimes spends his time discovering local life and cuisine. One of his hobbies is to sample different street food stalls.
The diplomat doesn't mind to take off his suit jacket, sit down on the small bench and be sandwiched by other people, to treat his taste buds with local dishes.
Pho is his favourite dish, followed by bun dau mam tom (fried tofu and fresh noodle served with shrimp sauce).
Hue food, which is made from very simple ingredients such as tiny mussels, small shrimps and rice flour, also impresses him with its tasty flavour.
Cooking is another of his hobbies. Vendors in Hang Be Market sometimes can see a Western man riding his Vespa scooter to purchase food ingredients in the market. In March, he surprised a group of more than 10 guests, including journalists, by a lunch featuring his self-cooked dishes, including "the chef's signature" – pot au pho, an adaptation of the traditional French pot au feu.
While other diplomats often mention political issues, Poirier regards gastronomy as an important method to link people with each other.
Now, between his busy hours in the office, the diplomat still spends time to learn Vietnamese once a week with his tutor. He is also a member of a football team consisting of both expats and Vietnamese people.
The footballers meet every Saturdays to play, followed by a friendly drink.
Thuy Hang
VNS