VietNamNet Bridge – Dietmar Vogelmann used to work as hotel and restaurant manager in a couple of nations before the German man decided to settle down in Vietnam and open a company to sell roasted and ground coffee of Vietnam.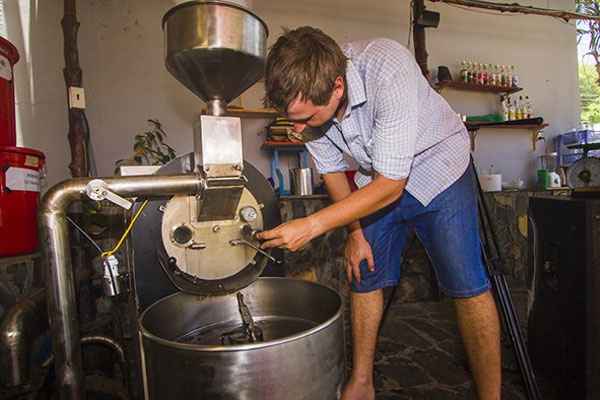 Dietmar Vogelmann checks a coffee grinding machine at his factory in Binh Thuan Province – Photo: Courtesy of Dietmar Vogelmann
Vogelmann started to fall in love with Vietnamese coffee three years ago when he went on holiday in Dalat City, Daklak and Kon Tum provinces in the Central Highlands. The establishment of Farmers Blend Coffee in the south-central province of Binh Thuan in October last year was the fruit of his growing love for Vietnamese coffee.
Vogelmann recalled he thought of selling coffee while he was traveling in the biggest coffee producing region in Vietnam. "I dreamt of selling coffee and leading a life of leisure in a peaceful place but I was too busy to translate the dream into reality at that time… and now it has come true," he said.
Farmers Blend Coffee came into life with great support of Vogelmann's Vietnamese wife and friends six years after he had settled down in Mui Ne Town in Binh Thuan's Phan Thiet City. Prior to his coffee business, Vogelmann worked as hotel and restaurant manager in Thailand, the UK, Maldives and Phan Thiet as well as on ships running on trans-Pacific routes.
"I worked on ships and had to stay away from my family," Vogelmann pointed out the reason why he quit his previous job though he could earn a lot from it.
Vogelmann has been living in Vietnam long enough to thoroughly understand Vietnamese people and their culture. "In Germany, if you have high quality products with reasonable prices, you can sell them well. Things are different in Vietnam where good relationships help you sell products easily," Vogelmann said.
Vogelmann began to sell coffee to his friends and people he worked with while he was working in the hospitality sector. He roasted and ground the coffee he bought in Di Linh District in the Central Highlands province of Lam Dong.
In the initial time, Vogelmann rode a motorbike from his company in Binh Thuan Province to Di Linh District to buy fresh coffee beans from local farmers. Language was the first barrier he met when making price bargains with farmers who were unable to communicate in English while he was not fluent in Vietnamese.
"I told them I wanted to buy fresh coffee beans to roast and grind, and I had a factory and a family in Mui Ne," Vogelmann said in Vietnamese to explain how he spoke to farmers during his first transactions. As he and farmers could not understand each other well in some cases, he had to call his wife to ask her to negotiate with the seller over the price.
Vogelmann said at his first transaction he bought 60 kilograms of fresh coffee beans at VND41,000 (US$1.82) per kilo after several rounds of bargains. For him, transporting a 60-kilo bag of fresh coffee beans on his motorbike on a long way from Di Linh to Mui Ne was one of the first thrilling experiences he had when starting the coffee business.
However, Vogelmann learned a lot of lessons during the startup period. He retold that when he brought home the bag of coffee beans, he realized that he could only use 40 of the 60 kilograms as the remaining 20 kilograms of coffee beans were substandard. This was the first lesson and he told to himself to be more careful in the next transactions.
After five motorbike rides to the Central Highlands to buy coffee beans, Vogelmann fortunately found a middle man to get the fresh coffee beans for his company.
Vogelmann had some trouble producing completely pure coffee at the initial period as he targeted. "After roasting and grinding the first batch of coffee, I invited my neighbors in Mui Ne to taste it and they said that the coffee was sour and the color was not as black as the coffee they favored. Therefore, I added corn flour and soybean to my coffee as I heard other producers usually made that way and satisfied coffee drinkers, but I was not really pleased with it," he said and insisted that he wanted to sell completely natural coffee.
Later, Vogelmann found out that he needed to roast coffee a bit longer to reduce the sourness of coffee and the coffee also turned blacker. This was the second lesson for him.
Asked how he can compete with other coffee firms in Vietnam, Vogelmann replied that his competitors are not instant coffee makers and coffee shops.
"Currently, 70% coffee users sip coffee at coffee shops and 30% enjoy filtered coffee at home, and the smaller proportion of coffee drinkers are my target customers," he explained.
Coffee shops treating guests with guitar or Acoustic music performances are also his target customers because most of them are open-minded and easily accept new flavors of coffee compared to the taste of authentic Vietnamese coffee.
Currently, Vogelmann sells 300 kilograms of coffee per month. "The volume is still small but my business is growing well and Vietnam is not the only market of my company," he said.
Vogelmann revealed a plan of exporting his coffee to Germany before selling it to Canada, where a Vietnamese Canadian has promised to support him.
SGT