VietNamNet Bridge – Gonçalo (Gonzalo) Cabrito, 40, has launched stand up paddleboarding (SUP), a new sport, in Da Nang City's My Khe beach for the local people and tourists.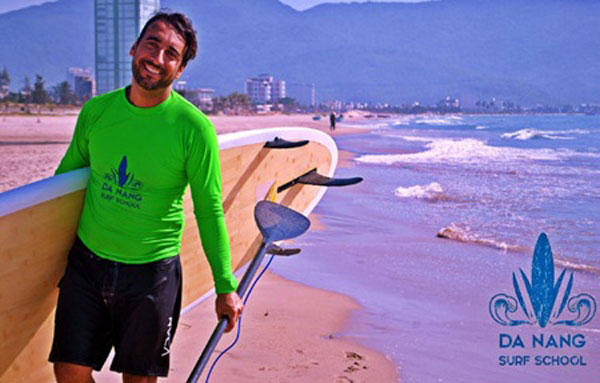 No waves needed: Gonçalo Cabrito, 40, certified surfing instructor, has opened a school in Da Nang that will teach surfing as well as a new sport, SUP, that does not require waves. — Photo courtesy Gonzalo
Visitors can undergo the SUP experience for one hour, where they can learn the basics of the sport, the material and right techniques, and practice on the pristine beach during the vacation.
Portugal's Cabrito, who is a certified surf instructor from ISA (International Surfing Association), which is unique in Viet Nam, has opened the surfing school with the aim of developing the surfing scene in the city and Viet Nam, after working for more than 25 years as a lifeguard and surfer.
He said he wanted to introduce a healthy lifestyle and surfing culture in the local community and educate the local people about dealing with the dangers of the sea.
"Da Nang provides amazing conditions for learning surfing as well as developing the skill further. We want to introduce a new sport, SUP, in the city," he said.
Gonzalo said SUP is like surfing, but with a larger board, where people use a paddle and waves are not required.
The 40-year-old said he married Thu Nguyen, an international violist, after meeting her five years ago in Portugal.
"She was working in the best orchestra in Portugal. When she visited my large restaurant there, I saw her for the first time and fell in love. She was so beautiful and sweet, speaking Portuguese like I speak Vietnamese now, very funny. She kept visiting my restaurant. She loves Portuguese food. We became friends, and then lovers, after a few months. It was a beautiful period of our lives, living together in Portugal," Gonzalo said.
He said his wife went to work in Brazil, so he sold his restaurant to follow his love.
He said they lived in Qatar after their marriage, but didn't like it much. So they decided to come to Viet Nam and try to do something different.
Surfing dream
Gonzalo said his wife had been living outside Viet Nam for more than 20 years and wanted to return as she missed the country and her father now was 86 years old.
"I always had dreamed of working on the beach and surfing all day. So, we travelled all over Viet Nam to decide where to open a surf school," he said.
"My wife is from Ha Noi, but we choose Da Nang, the most beautiful city in Viet Nam with its people, food, river and beaches.
"Many people advised us not to go to Da Nang as not many foreigners were there, and suggested we should go to Hoi An or Nha Trang instead. Eventually, we decided to stay in Da Nang as we fell in love with the beach city."
He said he could teach Vietnamese people to surf. It is not difficult if the people love the sport and the beach.
Gonzalo said his wife was staying in Ha Noi as she couldn't find opportunities to play in concerts in Da Nang, and that she was the leader of Apaixonado Quartet in the capital city.
He said his wife was opening a music school for autistic kids and planned to open a similar school in Da Nang too.
"We are going to teach the kids and adults how to surf and how to understand the ocean. They will understand the dangers, how to avoid them, and how to react if they are in a difficult situation," he said.
"I will not teach lifeguard techniques, just the dangers of the sea, the way the water moves in My Khe beach, where you can be and should not be, the safety rules, as well as ways to overcome difficult situations," he added.
"I won't hesitate to rescue anybody in danger. I saw one rescue here in My Khe beach by the local lifeguards. They did a very good job and quickly too. I was at the beach, ready to jump into the water," he said.
He said My Khe beach was perfect as it had waves for nine months of the year, while in Portugal, people surfed in winter too in waters of 13 degrees Celsius.
He said he was learning the Vietnamese language and that people in Da Nang would get surprised to hear him speak their language.
"They smile when they try to teach me and we end up laughing always. It is so funny. My wife is always surprised to see my progress in learning tieng Viet (Vietnamese language).
"When she asks 'where do you learn,' I say 'in the street'. Everybody teaches me. I can go alone to any restaurant in the street and to buy things from the market. People in Da Nang always understand me.
"I love Vietnamese food and I am crazy about banh xeo (pancake), my quang (locally made rice noodles with pork and shrimp) for breakfast. I love to have com tam (broken rice) for lunch. Fruit are unbelievable here, so many varieties and delicious too. I love to have iced coffee without sugar," he said.
"People in Da Nang are very friendly and always try to help me. I feel like I am home. I really feel very excited when my wife comes to Da Nang.
"Come to the surfing school at My Khe beach," he offered. "I will teach you how to surf."
Hoai Nam
VNS