VietNamNet Bridge – Many foreigners have developed an intrinsic love for Vietnam and such is the case of Hidehiko Nakagawa (Naka), a Japanese businessman who has said he fell in love with Vietnam at first sight.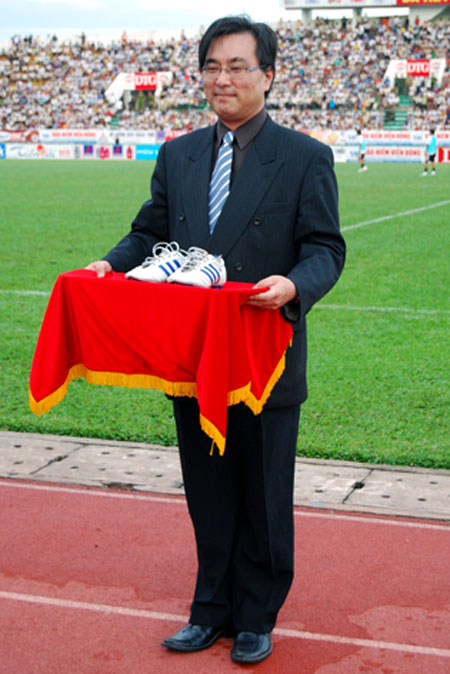 Hidehiko Nakagawa
Naka, who is currently the CEO of Nhat Tinh Viet Company, said he still vividly recalls his first trip with his wife to Vietnam in June 2006.
Before arrival he said he had an odd feeling that in a previous life, maybe he had been Vietnamese and that he was returning home.
On the trip he was introduced to a journalist in Ho Chi Minh City by Hoang Quoc Viet, chairman of the Nguyen Hoang Group, and Vo Quoc Thang, CEO of Dong Tam Group.
The Japanese businessman and the Vietnamese journalist hit it off immediately as they were both about the same age of 45 and shared many interests and views on work and social life.
In 2008, Naka returned to Vietnam with a group of four friends from Japan. I had convinced them to take a fact-finding trip to Vietnam with me for investment he said adding that he had fallen in love with Vietnam and wanted to help the country by convincing others to invest.
His journalist friend invited them to his house for a traditional Vietnamese dinner and during the meal, the journalist filled his new Japanese acquaintances in about Vietnam and all the changes that were taking place as the country prepared to transition to a more open market economy.
Before the evening was over, Naka asked the journalist if he could send his son, Nali, to Vietnam to study at RMIT University.
"I would like my son to stay in your house to learn and understand more about Vietnamese culture and traditional customs.Hecan learn from your two children who speak English very well."
Nali subsequently moved to Vietnam and stayed in the journalist's house. He studied with two children of the journalist and was cared foras if he were a family member. They even went each to church together.
Once, Naka had dinner with the journalist in Saigon. He gave an envelope to the journalist and said, "Here's the money for Nali's homestay calculated atUS$600 per month. This amount may not be enough, but you should take it," said Naka.
But the journalist refused and said, "You are my friend, Naka. So, I consider Nali as my son. He is always welcome to stay with me for free."From the bottom of my heart, I will always remember my friend's kindness and appreciate all that he did for my son.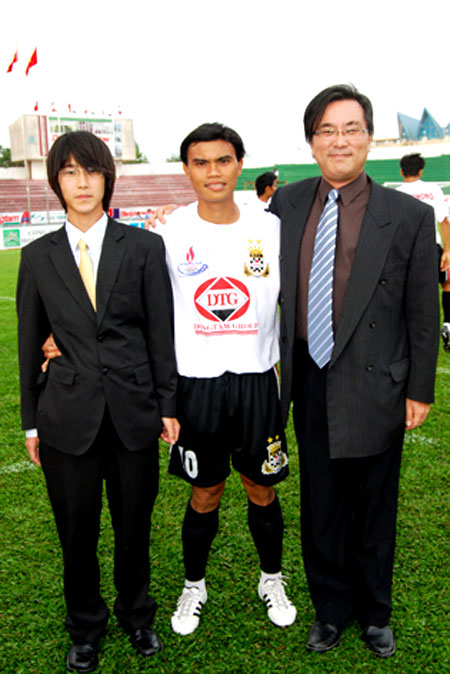 Hidehiko Nakagawa, his son, and famous football player Tai Em (middle)
In all my trips to more than 20 provinces and cities across Vietnam I have always found Vietnamese to be as kind and good-hearted as the journalist. I have also found Vietnamese businessmen friendly, cooperative and helpful.
Naka went on to found Nhat Tinh Viet Company, which provides advice for Japanese businessmen who want to invest in Vietnam. Profit is not our target he said but rather our business is attracting Japanese investors and helping Vietnam to become as developed and prosperous as Japan.
Whenever I return to my country, I often contact Japan businessmen and hold seminars on Vietnam's economy as well as advise them to invest in Vietnam. I am really happy to see more Japanese investment in Vietnam.
I also give advice on finance issues to several Vietnamese enterprises.
My father, an expert with 40 years experiences at Mitsubishi bank, loves Vietnam too. He has accepted an invitation to work as a counsellor for a business in Vietnam.
Vietnam is still poor – so, its young generation is determined to turn it into a rich nation. Vietnamese youth are industrious and keen on studying. They will find ways to grasp information and expertise from developed countries to serve the nation.
The young generation is Vietnam's strength and vital force.
VOV