VietNamNet Bridge – Four women from the Netherlands aim to bicycle around 22 countries in 400 days in a project called R4WR (Ride for Women's Rights).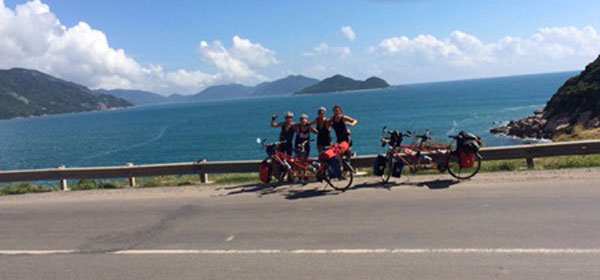 Cross-country: The team poses for a photo on a coast in central Viet Nam.
Carlijn Bettink, Lidewij Ponjee, Sophie van Hoof and Monique van der Veeken have been close friends for almost 17 years. After finishing master's degrees last year in Amsterdam, they decided they wanted to travel, but with a purpose.
"We don't expect to make any changes during the ride. We just want to see how women live in different countries and report their situation so that our followers can understand what's going on to women everywhere," group leader Bettink said.
Viet Nam is the sixth country the group has ridden through to achieve their target of covering 14,000km. After completing their journey, they plan to return to the Netherlands and give lectures and presentations at schools and women's rights symposia.
In Viet Nam, they visited a project to improve education, health, and sanitation for children and women run by Plan International in the central province of Quang Tri and another in the northern province of Phu Tho.
They learnt a lot from the way international organisations helped local women, who were living in poor conditions and lacked proper health care and even knowledge of raising children, Bettink said.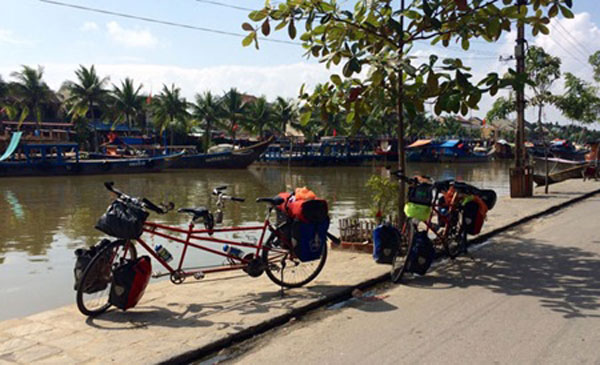 In tandem: The team's bicycles sit by the Hoai River in Hoi An.
She described how the Plan International staff thought of an interesting way to educate local mothers about their children's development and education via poetry, while a microfinance project initiated by the organisation allowed local women to get loans.
Diverse landscapes
"We cycle around 80km per day and stop every hour for refreshment and stretching," Bettink said, "Viet Nam has the most diverse landscapes I have ever seen."
The group has been to the most famous tourism sites in the country including Hoi An, Hue and Cat Ba Island.
"We loved the mountains with coastlines and sand dunes in Mui Ne," said Ponjee. "We were rather miserable during the rainy season in Hoi An and Hue. All of us were sick with high fever at the same time and no one could take care of the others. Sometimes we hated the sun, but actually the sun is better than rain!"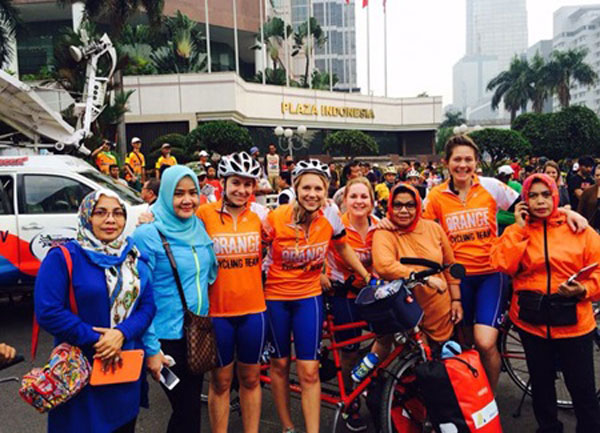 Rights angle: R4WR poses for a photo with women in Indonesia. — Photos courtesy of R4WR
One of Bettink's most memorable moments was meeting a motel owner in Hue who recognised them from an article in Tuoi Tre (Youth) newspaper.
"We are all happy as many people around the world know about us and even Vietnamese people know what we are doing," she said.
The girls learnt many things on their journey, from how to fix bicycles to how to eat on a low budget. Pho was one of their favourite meals.
While they felt safe travelling in Viet Nam, finding love appeared to be another story.
"Vietnamese women have good shape and seem to be very strong, but men tend to be rather short. I can hardly find any men of my size," Ponjee said.  
VNS