VietNamNet Bridge – Mark Edward Harris is a well known fine art photographer with editorial work appearing in publications such as Life, GEO, Conde Nast Traveler, Islands, Harpers Bazaar, the Los Angeles Times Sunday Magazine, Vogue.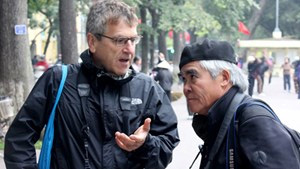 Mark Edward Harris and Nick Ut in Hanoi.
His books include Faces of the Twentieth Century: Master Photographers and Their Work, The Way of the Japanese Bath, Wanderlust, Inside North Korea, and Inside Iran. He is the recipient of numerous awards including a CLIO, ACE, Aurora Gold, IPA and Photographer of the Year at the Black & White Spider Awards.
He has just visited Vietnam and granted an interview to VOV.
You have visited Vietnam several times, three times this year. And you have been to many places such as Hanoi, Saigon, Sapa, Hoi An… Do you like the life in the mountainous region of Sapa or the Mekong delta? Which region do you like most and why?
On my first trip to Vietnam in 1992 I visited Hanoi, Hue, Danang, Nha Trang, Dalat, Saigon and the Mekong around My Tho. It was an incredible trip and yielded the first major photo essay that brought attention to my documentary travel photography.
I returned again in 2000 with my good friend Nick Ut to do a story on the 25th anniversary of the unification of the country. At that time I went to Saigon and then to Trang Bang with Nick where he took his Pulitzer-Prize winning shot of Kim Phuc fleeing her village after being struck by napalm in 1972. My third trip was in 2003, again with Nick and this time with our good friend, movie producer, Tim Zinnemann. On that trip we explored Hanoi, Halong Bay and Sapa.
Hiking to visit hill tribe villages such as Lao Chai and Ta Van, home to the Hmong and Dzay people, was particularly amazing. The scenery itself is breathtaking, with terraced rice patties being passed along the way and Mount Fansipan, Vietnam's highest point, in the distance.
In 2006 I returned to do a photo shoot for Coca-Cola, documenting their outreach programs in Saigon. In 2014, I came to Vietnam, three times on three separate assignments. The first in April to do a travel story about Cathy Pacific and Dragonair opening a new route to Danang from Hong Kong.
That gave me the opportunity to explore Hue again, staying on this trip at the beautiful La Residence Hotel & Spa next to the Perfume River, as well as Hoi An for the first time. I also took time off  to play golf on the challenging Montgomerie Links course located midway between Hoi An and Danang and stay at Nam Hai's magnificent sixty one-bedroom villa resort. I also went to the 1,500 year old temple complex of My Son.
My second trip in 2014 was in October for the opening of The Bluffs Ho Tram Strip Golf Course, designed by two-time major champion and Australian native, Greg Norman. I had the opportunity to interview and photograph Greg for his latest project in Vietnam.
In December I returned with Nick Ut to cruise the Mekong from Cambodia to Vietnam on board Uniworld's River Orchid. It was an incredible experience to explore this beautiful area of Southeast Asia on a wonderful ship that is made mostly of teak wood. Our off-boat excursions in Vietnam organized by Uniworld included a Chau Doc harbor cruise and visit to a Cham tribal village, and then another day to Sa Dec for a canal cruise and visits to brick and rice factories.
I also photographed the Huynh Thuy Le House, the late 19th-century home made famous by its connection to best-selling French novelist Marguerite Duras who lived in Sa Dec during her teenage years.   Her  novel, L'Amant (The Lover), is said to be based on her love affair with Huynh Thuy Le, the son of a wealthy Chinese landowner. Another excursion was in Cai Be to explore the town's floating markets with a French Gothic-style cathedral in the background.
You watched news on the war in Vietnam during your TV dinners, and this is one of the reasons why you then decided to visit Vietnam. What have you seen in Vietnam so far? Is it much different from what you have expected?
I was born in 1958, so I was basically ages 7-17 during what we call the Vietnam War and Vietnam calls the American War.  My mother went back to college during the early war years to become an elementary school teacher so when she and my dad, who worked in radio, and my brother would come home, we would have TV dinners and sit in front of the television to watch the CBS News with Walter Cronkite. Of course during those years the war dominated the broadcast.
I was horrified by the scenes of destruction and fascinated by the scenes of daily life when the reports were focused on the country in general. From all the scenes on TV I thought of the whole country being much more rural since much of the fighting, except during the Tet Offensive, seemed to take place in the countryside. I was surprised on my first trip in 1992 by all the vibrant city-life around the country.
You have famous photo books about Iran, the Democratic People's Republic of Korea (DPRK) and the Republic of Korea and Japan. Do you intend to write a book on Vietnam?If you will, what the major content of that book? (I mean the approach you will take to get people know about Vietnam through the book)
About a dozen black and white photos from my first trip to Vietnam were included in my second book, Wanderlust, which won several awards. It was this book which Coca-Cola producer Rachel Reid saw which made her consider me for the 2006 assignment which took me to Vietnam and 17 other locations around the world.
I would love to do a book on Vietnam sometime. This latest trip to the Mekong on the Uniworld River Orchid has yielded a number of strong images from an area of the country I hadn't photographed, except for around My Tho, until now.
You have met a lot of Vietnamese people while travelling in Vietnam. How do you feel about them?
A: I love Vietnam and am very impressed by the people who have had more than their share of struggles with outside forces (So the expression "more than their share" means that as a country, Vietnam has had to fight against more countries trying to interfere with their country than most countries have to deal with).
As we approach the 40th anniversary of the guns falling silent in 1975 with the reunification of the country, a united Vietnam, with a solid infrastructure and willing and able workforce, has a very bright future. I've already scene tremendous changes in the tourism industry since my first trip here more than two decades ago. I hope many more foreigners can have the opportunity to explore this fascinating country.
Do you have any interesting story in Vietnam that became a nice and unforgettable memory. Could you tell that story?
My two trips with Nick Ut up to Trang Bang. Since my Master's Degree is in history and I'm a photographer, the experience of going up to Trang Bang to the place where one of the most important photos in history was taken and to go their with the photographer who took the photo is an incredible experience. I first went with Nick in the year 2000 and met Kim Phuc's brother who was in the photo and who has since passed away and also I met one of Kim's cousins that was also in the photo.
Earlier today, Nick and I went back to Trang Bang. The area has changed a lot since I was there 14 years ago, many more buildings and now a four lane highway, but the Cao Dai temple is still there and a symbol of Nick's historic photo. I also saw two of Kim Phuc's cousins that were in the photo at today's meeting.
Of course I've had many, many non-war related great experiences in Vietnam from cruising in Halong Bay and the Mekong to exploring all the great towns and villages I've had the opportunity to visit.
Thank you very much.
Some photos taken by Mark Edward Harris in some places of interest throughout Vietnam such as Sapa, Danang, Chau Doc and Ha Long Bay:
Source: VOV