VietNamNet Bridge – An innocent look from a minority Vietnamese child, a smile of an elderly woman, or even a scenery of Vietnam's rice field are all being presented to the world as something very familiar to a Vietnamese. Yet, these images have captivated many foreigners who have thought of Vietnam as a developing country. To the world, Vietnam is an emerging country that is eager to showcase its economy booming through images of high-rise apartment buildings, large highways, towering bridges, and modern company towers. It is hoping to attract more investors by proving that Vietnam can become modern and ready to compete as a Southeast Asian financial hub.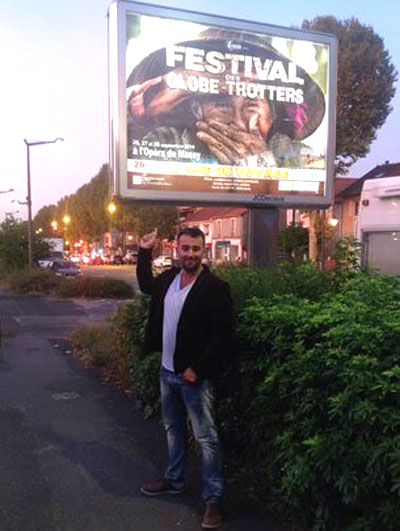 Rehahn poses for photos in front of a sign board featuring his exhibition about Vietnam's heritage and culture in Paris, France
Moving against the trend since he first arrived in Vietnam, French photographer Rehahn has shown to the world that Vietnam still has much more charming on its heritage rather than the commercial side. His best selling book, "Vietnam Mosaic of Contrast" is the proof of his hard work since it has sold over 2,000 copies in the course of less than a year for a new photographer. The belief that the rest of the world should see what he sees in Vietnam is the added value to his photos.
Rehahn's photos have what it takes to extract the most ordinary beauty of the country: its people. As a result, the rest of the world once again has focused on Vietnam not through its foreign direct investment index, its disputes with China over the East Sea, nor its GDP growth, but the simple photos of the children and the elderly people who smile or the looks of what are called the "hidden smile."
To some Vietnamese and foreign friends, Rehahn is known as a friendly French photographer with much love for Vietnam and the passion for photography. He decided to travel around the rural area, especially up in the upland to capture the forgotten and lost culture of the Vietnamese minorities. Yet, Rehahn has never thought that sharing these photos of Vietnam to the world through his own book collection and Facebook page will one day be exhibited at art galleries and prestigious exhibition halls from all over the globe.
Rehahn's dream is to share what he thought that everyone should see Vietnam in their own different perspectives. He says each and every photo of his has a story. And so the story of Rehahn about Vietnam was told to the world during his first ever official exhibition in Paris this past September at the 26th Festival of Globe Trotters where film, photograph, and travel from all over France joined hands to celebrate the art. The story of Vietnam was told to more than 3,000 people from over Europe, if not the world, through Rehahn's autograph and photo book "Vietnam: Mosaic of Contrast".
Yet, Rehahn also used this chance as a special guest of the event to speak about Vietnam and his photos, and share with 800 special guests what Vietnam has given Rehahn: inspiration, love and lesson.
To follow up on his success in spreading the smile of Vietnam to many countries, Rehahn has opened his new gallery, "Couleurs D'Asie" at 7 Nguyen Hue Street in his beloved Hoi An City in the hopes of continuing to showcase some of his best works to both Vietnamese and foreign visitors.  Of course, fans and art collectors can also find some of Rehahn's best works that are currently featured in a variety of prominent photography magazines such as National Geography.
The gallery is where visitors can come to meet the French photographer, speak to him about his photos or upcoming projects, or get a few copies of his works. Rehahn wants to make sure that he can speak to everyone who walks into his gallery because he believes that all his photos have a story he wishes to share with his buyers. Some of the famous photos featured at various exhibition halls globally can cost up to US$2,000 each. But some buyers are willing to pay in order to take this piece of memory from Hoi An back home. What makes Rehahn proud the most is his collectors, fans, and audiences all share one thing in common: the love of Vietnam's heritage and culture.
It looks like Rehahn's mission to bring as much of Vietnam as he could through his photos to the world. Therefore, Rehahn continues to accept invitations to various exhibitions worldwide, hoping that one day, everyone can remember him as a representative of Vietnam rather than just another foreign photographer. As for those following Rehahn and loving his works, following are the schedules of his upcoming exhibitions in 2015:
- May 9 to 30 at L'Espace Français, Hanoi, Vietnam
- Sept 11 at Christina Noble Foundation, Dublin, Ireland
- Sept 20 until Oct 18 at the Art Festival, Sapa, Vietnam
- Sept 18 until Oct 8 at New World Hotel's 20th anniversary, HCMC, Vietnam
- Sept 23 at Eleven Gallery, Rennes, France
- Sept 26 to 28 at the Globe Trotters Festival, Paris, France - Sept 21 to Oct 31 at 5 Senses Gallery, Rome, Italy
- Oct 13 to 29 at L'Institut Français, Hue, Vietnam
- Dec 10 to 24 at Fine Art University, HCMC, Vietnam
- Rehahn's North America Tour 2015
Source: SGT