VietNamNet Bridge – Vietnam is a popular destination for many adventurous tourists to enjoy street food, pagodas and beautiful landscape. One other distinct tourist experience is Bia Hoi (draught beer) which predominantly can be found along narrow streets of Hanoi.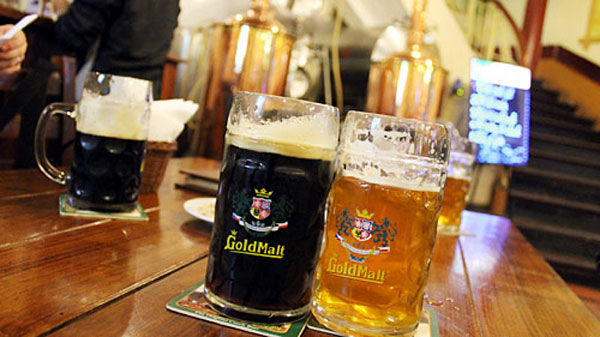 The microbreweries produce about 300-1,000 litre beer at a time, a process that takes a half day in operations and 3 weeks of storage.
Bia Hoi is a fast produced, light beer made of rice, malt and sugar, often served more or less directly at the street.  Bia Hoi is more of a social concept which includes beer and food which is consumed by all social groups under simple circumstances. It's a tradition that many deals and contracts are sealed during long dinners with food and plenty of beer.
Booming microbrewery culture
Beer is not only a symbol here, it is also a bearer of culture and a symbol for Vietnam, a country that takes in new influences but values local culture. There are about 45 microbreweries in Vietnam, of which 35 are making Czech inspired beer and the other 10 are influenced by German beer culture.
Compared with Bia Hoi and international bottled beers, these beers contain much more malt and hops and are therefore much more full bodied and tasty. Vietnam has a long history with the former allies Czechoslovakia and East Germany and the biggest diasporas are in today's Czech Republic and Germany. Most of today's brewers have lived in the Czech Republic and brought beer traditions and knowledge with them back to Vietnam.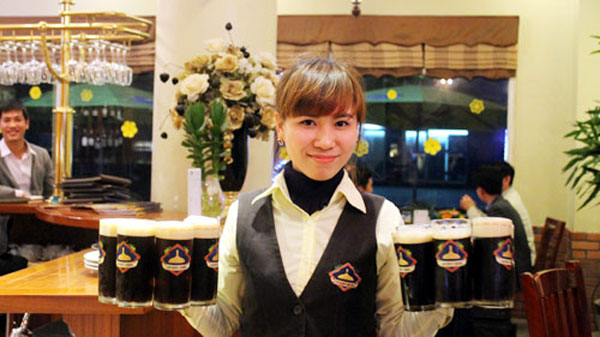 Here is a typical microbrewery, one of six Goldmalts breweries in Hanoi, a small establishment, not easy to discover.
They brought the ingredients and knowledge of how to make the beer, but even if recipes and ingredients are the same and local water and weather are important to the taste. After a few years many brewers realized that taste references depend on where in the world you are and in particular the local food. So some small changes have been made to adopt the beer after local culture and demand.
The result? Amazing beers, well balanced and tasty. Every brewery is making their own beer and variation is not only between breweries it's also differing during the year depending on yeasting and storage temperatures. The beers are unique and alive, a result of experience and local conditions.
Following the beer trail in Vietnam
There is a brewery in every holiday location, but it is easy to miss them because of all other beer establishments in Vietnam, which is worldwide known for the beer consumption estimated at about 42 litres of beer a year per person. With almost 90 million people, you realize that the microbreweries represent less than 1 % of the beer consumption.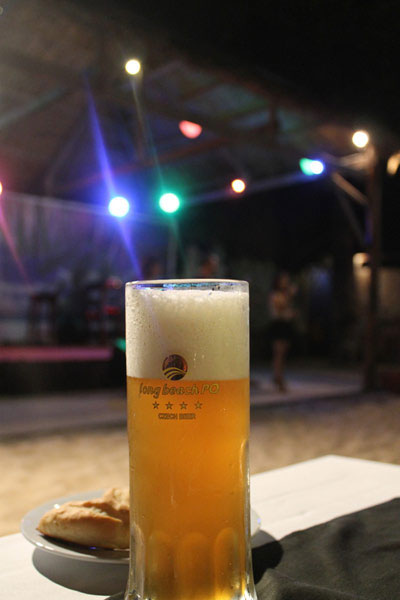 Enjoy a Holiday beer at the local microbrewery at Phu Quoc.
There are 26 microbreweries in Hanoi, 12 in Ho Chi Minh City and then 7 more elsewhere in Vietnam, as are known today. You can find a microbrewery in almost every popular travel destination, like in Phu Quoc, Mui Ne, Nha Trang, Danang, Da Lat and also the coastal city of Haiphong which can be visited on the way back from your holiday in the astonishing Halong Bay.
On the way back from Halong Bay to Hanoi, make a short stop in Hai Duong city, famous for its diamond polishers, visit the local microbrewery and have two tasty beers before you tackle the culinary challenges in the capital of Vietnam.
Hidden treasures
Few foreign visitors are taken by surprise when they realize that the beers here in Vietnam are much better than many beers at home. The amount of malt is higher than in normal lagers and the hops is carefully added at different times of the beer making process.
The breweries are quite small and only a few of them have a homepage and tries to reach out to the big crowd. In a city like Hanoi, with 26 microbreweries, each and one of them gathers local crowds and occasionally a few expats and tourists.
The interest in beer in Vietnam is huge but also more modest than in Europe and North America where the hype for special beers is strong and microbreweries are popping up everywhere. It has almost gone too far there; in some pubs it's impossible to order a regular beer.
Making good beer before making money
The brewers in Vietnam invest much time and efforts in making good beer, and importing both hops and malt from the Czech Republic and Germany requires both planning, but the most important is a strong dedication and passion for beer.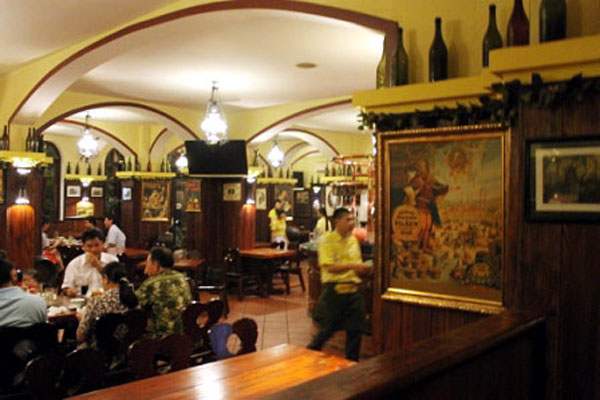 Enjoy both Czech food and Czech styled beer at one of the older breweries in Hanoi, Hoa Vien Brauhaus.
The microbreweries are there, not easy to find, so it's up to the customers to find their way to them. The price of a glass of beer at the breweries is about VND35,000, less than US$2, despite all the man hours and knowledge that is behind the wonderful beer you have in your hand.
The future is… not so bright, it's yellow, semi-bright and with a thick foam on it, full of flavours from hops and malt and locally produced. Keep an eye on this beer culture, things will happen here in Vietnam and put some efforts to find these dedicated beer makers, don't miss this culinary experience.
Jonathan Gharbi
VOV/VNN