The Kremlin has ordered the United States to cut about 60 percent of its diplomatic staff in Russia but many of those let go will be Russian citizens, softening the impact of a measure adopted in retaliation for new U.S. sanctions.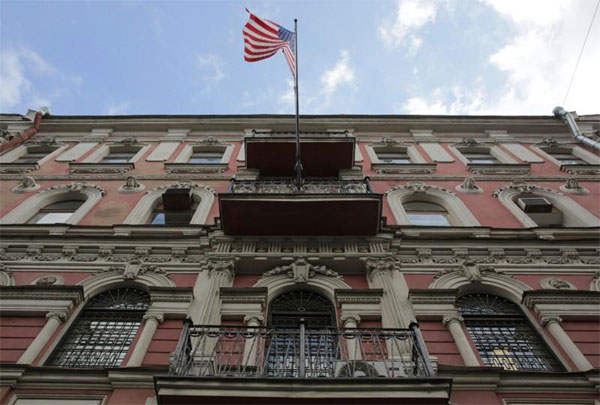 The flag of the U.S. flies outside the U.S. consulate in St. Petersburg, Russia, July 31, 2017.
The ultimatum issued by Russian President Vladimir Putin is a display to voters at home that he is prepared to stand up to Washington, but is also carefully calibrated to avoid directly affecting the U.S. investment he needs, or burning his bridges with his U.S. opposite number Donald Trump.
Putin said on Sunday Russia had ordered the United States to cut 755 of its 1,200 embassy and consulate staff by September, and was seizing two diplomatic properties.
The cuts will affect embassy and consular operations, but allowing the United States to choose who leaves means a smaller impact than expelling U.S. diplomats from Russia.
The measures were announced after the U.S. Congress overwhelmingly approved new sanctions to respond to Russian meddling in the 2016 U.S. presidential election and to punish Russia further for its 2014 annexation of Crimea from Ukraine. The White House said on Friday that Trump would sign the sanctions bill.
Speaking to troops in Tallinn, Estonia, U.S. Vice President Mike Pence called Russia's actions "drastic" but said Washington would continue with its sanctions until Moscow stopped its "destabilizing activities in Ukraine and elsewhere."
Trump did not comment on the expulsions on Monday. "Right now, we're reviewing our options, and when we have something to say, we'll let you know," his spokeswoman Sarah Sanders told reporters.
Staff at the U.S. embassy in Moscow were on Monday summoned to an all-hands meeting where Ambassador John F. Tefft briefed employees on the Russian decision - the toughest diplomatic demarche between the two countries since the Cold War.
Source: Reuters