The World Health Organization (WHO) confirmed on Sunday a second case of Ebola in Democratic Republic of Congo after an outbreak this week of 17 other suspected cases.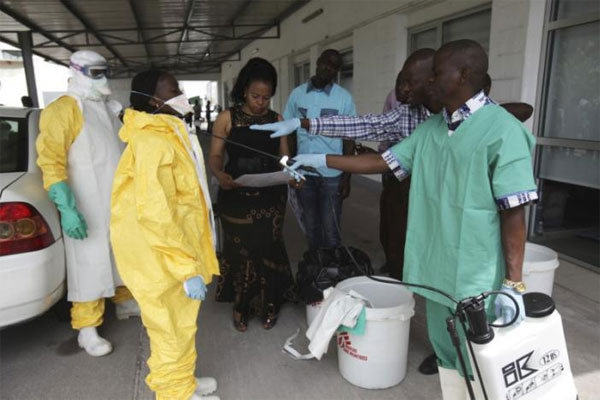 FILE PHOTO: A health worker sprays a colleague with disinfectant during a training session for Congolese health workers to deal with Ebola virus in Kinshasa October 21, 2014. 
Health officials are trying to trace 125 people thought to be linked to the cases identified in the remote northeastern province of Bas-Uele province in northeastern Congo near the border with Central African Republic, WHO's Congo spokesman Eugene Kabambi said.
Three people have so far died among the 19 suspected and confirmed cases, he added.
It was not immediately clear how the first victim, a deceased male, caught the virus, although past outbreaks have been linked to contact with infected bush meat such as apes.
The outbreak comes just a year after the end of an epidemic in West Africa killed more than 11,300 people mostly in Guinea, Sierra Leone and Liberia.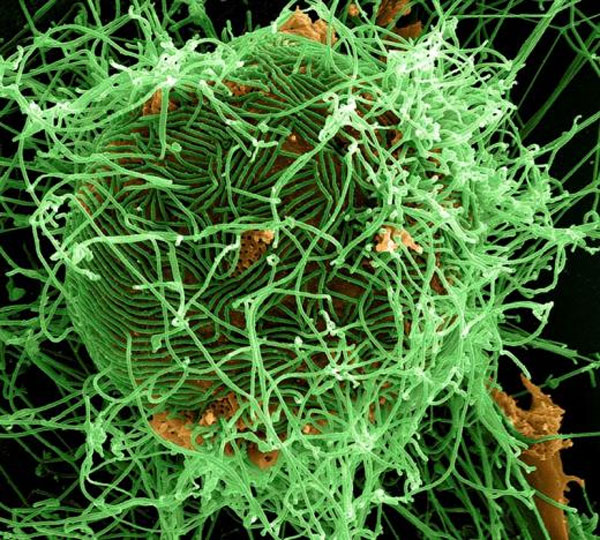 A digitally colorized scanning electron micrograph depiction shows numerous filamentous Ebola virus particles in green, budding from a chronically infected VERO E6 cell in orange at 25,000X magnification in this undated handout picture from the National Institute of Allergy and Infectious Diseases (NIAID). 
However, Congo, whose dense forests contain the River Ebola near where the disease was first detected in 1976, has experienced many outbreaks and has mostly succeeded in containing them without large-scale loss of life.
The GAVI global vaccine alliance said on Friday some 300,000 emergency doses of an Ebola vaccine developed by Merck (MRK.N) could be available in case of a large-scale outbreak and that it stood ready to support the Congo government on the matter.
Source: Reuters