So-called social smokers who only light up on special occasions may have some of the same risks for heart disease as people with a daily cigarette habit, a U.S. study suggests.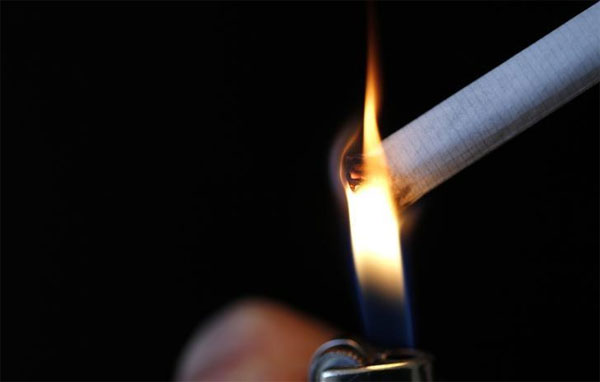 A woman lights a cigarette in this illustration picture taken in Paris, October 8, 2014.
For the study, researchers examined data on smoking habits, cholesterol levels and blood pressure for a nationally representative sample of 39,555 adults. Most people said they didn't smoke, while roughly 17 percent were current smokers and about 10 percent were social smokers who didn't have a daily habit but did regularly smoke in certain situations.
Compared with non-smokers, social smokers were more than twice as likely to have high blood pressure - known as hypertension - and 53 percent more likely to have elevated cholesterol, the study found. Social smokers had the roughly the same odds of having these risk factors for heart disease as current smokers in the study.
"These results provide strong evidence that smoking, regardless of amount, is an even stronger indicator of cardiovascular risk than previously thought," said lead study author Kate Gawlik, a researcher at the Ohio State University College of Nursing in Columbus.
"Social smoking is still a major cardiovascular health risk," Gawlik said by email. "No amount of smoking is safe."
Researchers defined cardiovascular health based on blood pressure and total cholesterol levels. And before accounting for other heart health risk factors like weight, age, gender and race or ethnicity, social smokers were found to have lower rates of high blood pressure than current smokers.
But after adjusting for the other risk factors, rates of hypertension were similar for current and social smokers, 76 percent and 75 percent, respectively, a difference too small to rule out the possibility that it was due to chance.
High cholesterol rates were also similar after adjusting for other risk factors: 53 percent for social smokers and 55 percent for current smokers.
Social smoking was most common among adults 40 and under, researchers report in the American Journal of Health Promotion. Social smokers were also more likely to be male and Hispanic.
Study participants were screened from 2012 to 2016 as part of a cardiovascular health education program. Participants reported their own smoking habits and had clinicians check their blood pressure and total cholesterol.
The study isn't a controlled experiment designed to prove whether or how much social smoking impacts heart health compared to other patterns of tobacco use. It also didn't assess the long-term health effects of smoking, only the presence of certain risk factors for heart disease.
Another limitation of the study is that researchers lacked data on prior smoking behavior, the authors note. Participants also volunteered to join the study instead of being randomly selected, which might make the results less reliable.
It's also possible that not all of the participants had chronic high blood pressure, said Michael Cummings, co-leader of the tobacco research program at the Medical University of South Carolina in Charleston. That's because blood pressure readings may spike after someone smokes without being regularly elevated when they aren't using nicotine, Cummings, who wasn't involved in the study, said by email.
But that doesn't make any amount of smoking safe, Cummings said.
"Every cigarette you smoke does your body damage," Cummings added. "For someone predisposed to cardiac disease for whatever reason, exposure to cigarette smoke stresses the heart and increases the risk of serious cardiac problems."
Heart problems associated with smoking don't need to be permanent, however, said Dr. Stanton Glantz, director of the Center for Tobacco Control Research and Education at the University of California, San Francisco.
"Any smoking is bad," Glantz, who wasn't involved in the study, said by email. "The good news is that, unless the smoking has caused a heart attack, the effects go away when you stop."
Source: Reuters