"Veep" star Julia Louis-Dreyfus won her fifth straight Emmy on Sunday for her role in the satirical White House comedy on a night when politics played large in the midst of an extraordinary 2016 U.S. election campaign.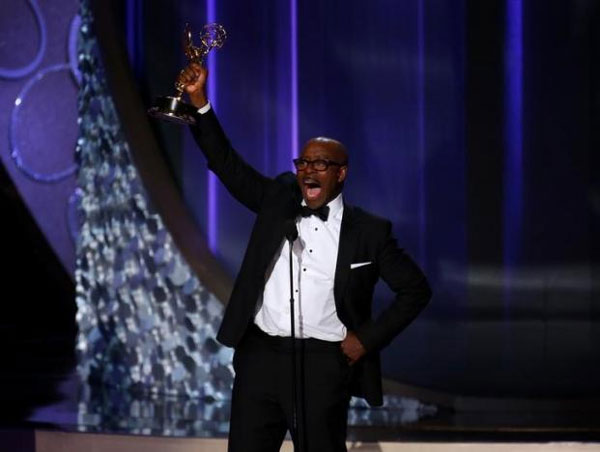 Courtney B. Vance accepts the award for Outstanding Lead Actor In A Limited Series Or Movie for 'The People v. O.J. Simpson: American Crime Story' at the 68th Primetime Emmy Awards in Los Angeles, California, U.S., September 18, 2016. 
True crime also made its mark. "The People v. O.J. Simpson," FX's 10-hour dramatization of the former football player's 1995 double murder trial and sensational acquittal won nine Emmys, including for best limited series, writing, for lead actors Sarah Paulson and Courtney B. Vance and supporting actor Sterling K.Brown.
Paulson, who played losing Los Angeles trial prosecutor Marcia Clark in the show, brought Clark along with her to the Emmys.
"The more I learned about the real Marcia Clark... the more I had to recognize that I along with the rest of the world had been superficial and careless in my judgment," said Paulson, accepting her first Emmy.
Louis-Dreyfus, who plays the vainglorious U.S. president Selina Meyer on HBO's "Veep", apologized for what she called "the current political climate."
"I think that 'Veep' has torn down the wall between comedy and politics. Our show started out as a political satire but it now feels like a sobering documentary," she said while accepting the award.
As Americans prepare to vote in November for a new president, "Veep" is also expected to win the coveted comedy series category, which is announced at the end of Sunday's three-hour ceremony.
Host Jimmy Kimmel opened Sunday's show with a string of jokes about Republican presidential contender and former "Celebrity Apprentice" host Donald Trump.
"If Donald Trump gets elected and he builds that wall, the first person we are throwing over it is Mark Burnett," quipped Kimmel, addressing Burnett, the British producer who created "Celebrity Apprentice."
"Saturday Night Live" comedian Kate McKinnon, who plays Democratic U.S. presidential nominee Hillary Clinton, won supporting comedy actress, while Louie Anderson was named best supporting actor for playing the wholesome mother of Zach Galifianakis' quirky clown in the FX comedy "Baskets."
Jeffrey Tambor won best comedy actor for a second time for his role as a father who transitions to a woman in Amazon's ground-breaking "Transparent
In the drama series race, to be announced later on Sunday, HBO's medieval fantasy "Game of Thrones," which dominated with 23 nominations, is seen as favorite to retain its crown for a second year.
Source: Reuters