Porta Chiusa, a clarinet trio from Switzerland with a strong focus on compositions using microtonal and multi-phonic techniques, will perform on December 1 at  Heritage Space, Dolphin Plaza, 28 Tran Binh, Hanoi.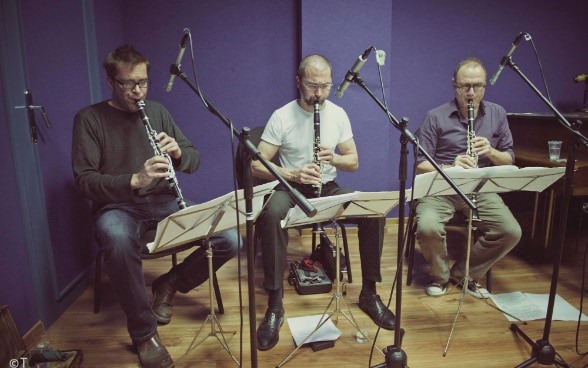 Porta Chiusa, a Swiss clarinet trio, will perform on December 1 at Heritage Space. — Photo courtesy of the organiser
The performance is a part of the experimental music series called Beyond Sound, which aims to reveal the latest works of Vietnamese and foreign composers and musicians.
The trio, who got together in 2009, are Paed Conca, Hans Koch and Michael Thieke.
In their first tour in Viet Nam, Porta Chiusa will give audiences a variety of pioneering compositions, and a unique style of clarinet based on classical traditions. 
The band will also contribute many improvised performances with two young Vietnamese artists, Nguyen Thu Thuy (stringed instrument) and Nguyen Do Minh Quan (electronic music).
An art talk by Porta Chiusa will be hosted at 11.30am on November 30 at Puppet Cafe, 27/189 Giang Vo Street, Hanoi. — VNS