Two young musical maestros Luu Duc Anh and Nguyen Ly Huong will collaborate to organize Duo-Flute& Piano concert at the French Culture Centre, L'Espace in Hanoi on December 9.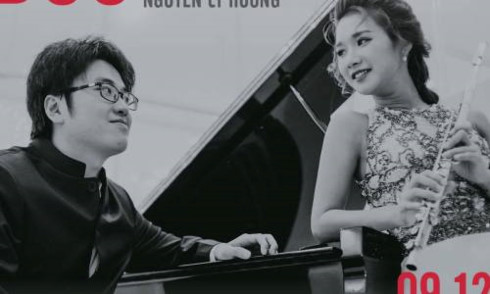 The skillful techniques of mastering musical instruments on show by the two talented young artists promises to bring a new sensation to Vietnamese audiences who love French music. 
The ticket price for the concert ranges between VND90,000 and VND190,000. Organizers said the low ticket price is aimed at making French music more available to the public. Through the event, young Vietnamese artists will have greater opportunities to show off their talent to Vietnamese audiences after several years of studying and working abroad.
Luu Duc Anh and Nguyen Ly Huong have studied at the world's leading music academies. The 24-year-old Luu Duc Anh graduated from the Royal Conservatory of Brussels and he has won several prestigious awards at home and abroad.
Meanwhile, Nguyen Ly Huong, born in 1990, began learning the flute at the Vietnam National Academy of Music in 2000 and carried off high prizes at international contests.
In 2014, she topped the list of students entering Malmo Academy of Music, Sweden and is now a lecturer at the Vietnam National Academy of Music.
VOV